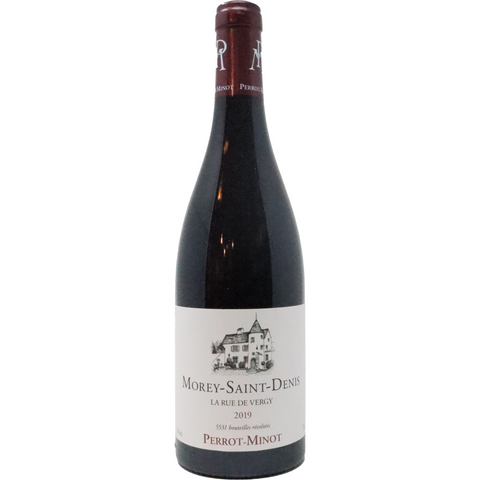 2019 Domaine Perrot-Minot Morey-Saint-Denis "En La Rue De Vergy", Burgundy, France
Intensely expressive, with wild hedgerow fruits, admirable purity expressed on both nose and palate. A stoney, earthy mineral undertone builds on the palate adding drive and dimension to the ripe, juicy, succulent dark red and blue fruits on the finish.
ABOUT THIS WINE
This terroir located just above Clos de Tart expresses great minerality due to its ground strewn with rocks within places of outcropping rocks. A soil very poor in soil which expresses a very high minerality. The wine contains 60% whole cluster.
ABOUT THIS PRODUCER
The origins of the Perrot-Minot estate go back to the middle of the 19th century when the vines of the Sigaut (Chambolle-Musigny) and Morizot (Morey-Saint Denis) families were brought together in the heritage of Léonie Sigaut, wife and widow of Alexandre Morizot.
It wasn't until the 1960's that the estate would become known as Perrot-Minot. The family members running the estate at that time decided to adhere to the tradition of quality and innovation which had already prevailed with the two previous generations. Christophe Perrot-Minot became manager in 1993. His previous experience as a wine broker for seven years had brought him a deep and broad knowledge of the winegrower's trade. He also brought convictions about what constitutes a great wine and how to produce it. Convictions that he was to put into practice by adhering, like the three generations who preceded him, to that grand tradition of putting excellence and innovation at the very heart of work. Rethinking, modernizing the estate, and perfecting ever further the quality of the wines while preparing the continuation of a story that now goes back nearly two centuries.