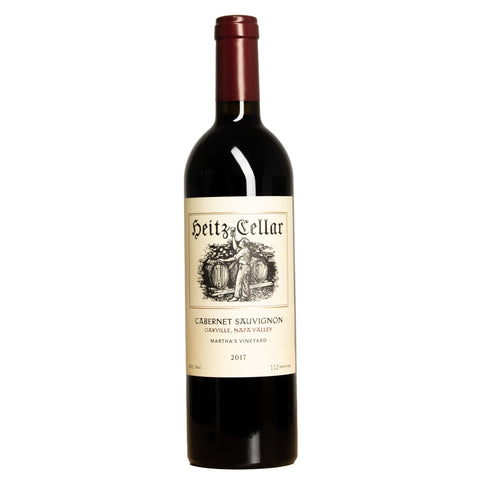 2017 Heitz Cellar "Martha's Vineyard" Cabernet Sauvignon, Napa Valley, California
The 2017 vintage showcases incredible concentration from this warm-weather vintage: Notes of ripe black fruit, dark chocolate, and sweet bay are lifted and enjoyed with the robust yet soft tannin and mouthwatering freshness.
ABOUT THIS WINE
Tucked against the Mayacamas mountains in the celebrated Oakville AVA, with fertile, well-drained soil and afternoon shade, this superior site is home to the unique proprietary cabernet clone which has brought this vineyard legendary status.
The exclusive cabernet "Martha's Clone" is known for producing small berries with an intensely purple hue, deeply concentrated flavor and a distinctive minty aroma. During aging, only the best barrels from the vineyard are selected and bottled as our Martha's Vineyard Cabernet Sauvignon. Spending a year in neutral oak tanks after fermentation, the wine is allowed to settle and refine itself. Next, it is barreled down to hand-selected, 100% new French Limousin oak wide-grain barrels, allowing a slow and gentle integration of the toast and vanilla characteristics from the barrel to marry with the wine. Three years later, Martha's Vineyard Cabernet is ready to bottle whereupon it continues to mature gracefully for another full year before being released from the cellar. A wine full of balance and unique, almost mysterious qualities, Martha's Vineyard is Heitz Cellar's flagship wine and a true Napa Valley icon.
ABOUT THIS PRODUCER
Family owned since its founding in 1961, Heitz Cellar's legacy runs as deep as the roots throughout the Napa Valley; a winery legend that has helped shape the history of Napa Valley winemaking. In the late 1950s, pioneering vintner Joe Heitz ushered in Napa's modern era with his iconic, globally celebrated wines, including Napa Valley's first vineyard-designated Cabernet Sauvignon, the renowned Heitz Cellar Martha's Vineyard. Fifty-eight years of the Heitz family's dedication to viticulture, stewardship, and classic winemaking maintained the winery's notoriety as a benchmark amongst its peers in California and Europe.
In April 2018, Heitz Cellar entered an exciting new chapter as this rich legacy was passed into the hands of the Lawrence family, whose deep roots in agriculture and commitment to the same core values of fine winemaking made it a perfect match. The wines are made with an unwavering commitment to quality from organically farmed, 100% Napa Valley fruit, and a commitment to the sustainability of Napa Valley.