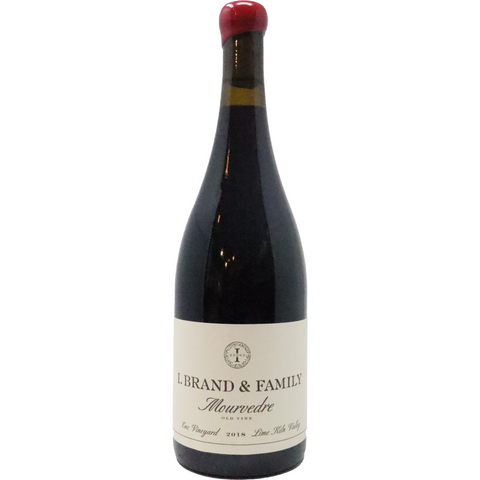 2018 I. Brand & Family, Mourvedre "Enz Vineyard", Lime Kiln Valley, Central Coast, California, USA
The color shows as a beautiful ruby in the glass. You'll discover aromas of raspberry, cherry cola on the nose and more of a spicy spicy dark raspberry on the palate. An absolute stellar wine from the Central Coast in California.
ABOUT THIS WINE
100% Mourvedre. The Mourvedre block at Enz is just under 8 acres and was planted in the 1920s. It's a dry-farmed 8 acre block consisting mostly of Mourvedre but also Pais, Carignan, Muscat, Alicante Bouschet on 10 x 10 spacing. Vineyard is at southern base of Mt. Harlan on a 5% incline on north facing slope. Soils are granitic sand with significant limestone and dolomite deposits. The Mourvedre is an isolated genetic line from what's commonly available in California- the budwood was sourced from original planting in Lime Kiln Valley and brought over from an immigrant from Southern France. Spontaneous fermentation with 50% whole-cluster with stems, other 50% whole berry. Aged in 3 neutral barriques and 1 new lightly toasted 500 L puncheon. The portion that went into new puncheon spent 3 months before returning to barriques. 11 months total spent in barrel. Unfined, unfiltered. Bottled and aged 9 months in bottle before release.
ABOUT THIS PRODUCER

After ten years of studying the history, geography, climate and geology of the Monterey Bay area through their P'tit Paysan and La Marea labels, Ian and Heather Brand started I. Brand & Family to showcase the truly unique vineyard blocks in the region- Santa Cruz Mountains, Monterey, and San Benito- which they believe will define their region. These wines are made with special regard for site, intended to intensely showcase place, and each site was selected because of its special location, match of variety to place, and relationship with the history and/or future of the region.