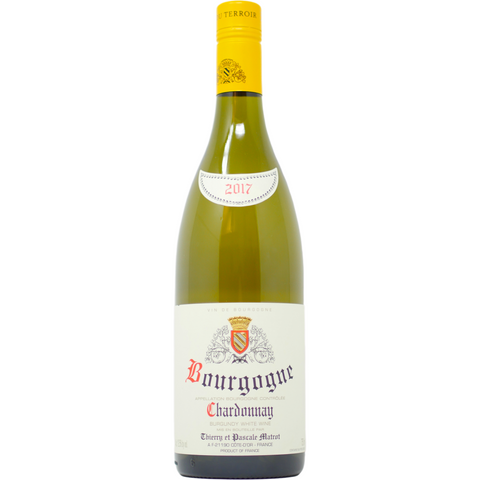 2017 Domaine Matrot, Bourgogne Blanc, Burgundy, France
The grapes for this Chardonnay are picked near the appellation of Meursault. It is fruity and round and can be enjoyed as an aperitif or as an accompaniment to charcuterie, chicken, and grilled fish. A great wine to enjoy with friends.
Joseph Matrot (1881-1963), the grandson of owners of a family wine estate in Puligny-Montrachet and Blagny, lived with his wife, Marguerite Amoignon, and their three children at Château d'Evelle. Marguerite also owned a beautiful wine estate in Meursault. In 1914, they took up residence in Marguerite's family home, which is today the seat of Domaine Matrot, and decided to develop and extend the estate. Their son, Pierre, began working as a wine grower in 1937. He also bought vineyards, modernized the estate and, together with his wife Simone Bonin, had five children. Having obtained a degree in wine growing and oenology in Beaune, Thierry, Pierre's son born in 1955, continued with business studies in Mâcon Davayé. He joined the estate in 1976 and took over the vinification starting in 1983. Together with his father, Thierry continued to establish the reputation of Domaine Matrot and its wines. In January 2000, Thierry and his wife, Pascale, established and developed a limited liability company allowing them to buy and sell the harvest of the vineyards of Héritiers du Domaine Joseph Matrot. Thierry has been running the estates SCE Pierre Matrot and Héritiers du Domaine Joseph Matrot for many years. He ensures constantly high quality regarding all stages of the winemaking process: cultivation of the vines, vinification, maturing the wines, and selling them. He and Pascale have been joined by their daughters, Adèle and Elsa, in the management and wine making of Domaine Matrot, ensuring that the family-run domaine will be in good hands for many years to come.