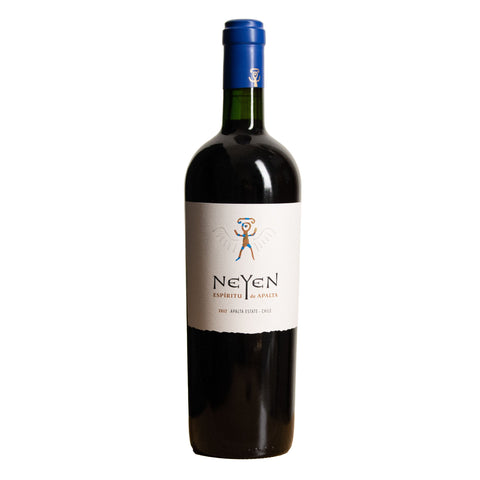 2017 Neyen "Espíritu De Apalta", Colchagua Valley, Chile
Complex aromas of raspberry and blackcurrant mix with notes of vanilla and subtle pepper, cedar and leather. The palate is fresh and elegant, with smooth tannins and a persistent finish.
There are 9 units left in stock.
ABOUT THIS WINE
Though each year varies slightly, Neyen seeks balance, an elegant synergy between the characteristics of each variety. Serving as the wine's backbone, Cabernet Sauvignon adds structured smoothness, while Carmenere, Bordeaux's lost variety, delivers a soft texture and silky finish.  A new-world wine with an old-world essence, Neyen offers authentic wines, reflecting the unique centenary vines and soils from our property in Apalta.
ABOUT THIS PRODUCER
A unique location set apart by nature, wedged between where the Andes Mountains and Coastal Range unite to form a stunning half-moon formation. Neyen is the projection of people and place. It knows the ways of the land, letting origin reign. After more than 100 years of humbling experience, passed down from generation to generation, our wines have become a true reflection of the spirit of Apalta. Neyen is more than just a blend of Cabernet Sauvignon and Carmenere. It's a coming-together of the new and old worlds; a powerful and vibrant interpretation of the estate.
Rich in history, the Cabernet Sauvignon vines were first planted in 1889, moving on to include Carmenere in 1936. These original, own-rooted pre-phylloxera vines from France continue to produce high quality fruit year after year. Owing to age and a deep root system, our vineyards require minimal intervention. Granitic, volcanic soils from the mountains, along with river's clay loam soils, allow for natural drainage. These particular conditions, together with a semi-arid Mediterranean climate, result in a slow ripening of the grapes, achieving balance and elegance.
In pursuit of Neyen's most faithful terroir expression, the use of organic practices leads to healthy soils and pure fruit. We work in tune with our estate's rich biodiversity, helping to maintain a balanced eco system.