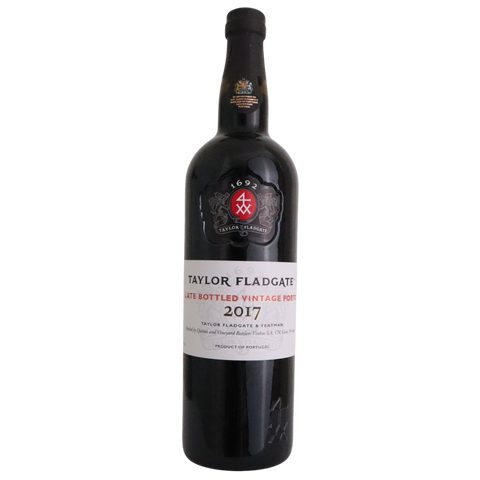 2017 Taylor Fladgate LBV Port, Douro, Portugal
Deep ruby colour. The elegant and stylish nose combines fresh, intense blackcurrant and cherry aromas with subtle notes of liquorice and spice. On the palate the rich and concentrated black fruit flavour is supported by firm but well integrated tannins. True to the Taylor Fladgate style the wine shows great balance and finesse.
ABOUT THIS WINE
Late Bottled Vintage, or LBV, is the most popular premium Port style in both England and Canada, representing one in five purchases of Port in the UK and over a quarter of all Port enjoyed by Canadians.
Vintage Port and LBV both present a selection of very fine full bodied red ports from a single year. The fundamental difference between the two styles lies in the way each is matured. Vintage Port is kept in wood for only twenty months or so before being transferred to the bottle where it will continue to age. Late Bottled Vintage, as the name suggests, is bottled later, remaining in wood between four and six years. During this relatively long period of wood ageing, an LBV matures and settles down - it is ready to drink when bottled, does not need to be decanted and can be served by the glass for several weeks after the cork is drawn.
LBV was developed as a high quality but more affordable and immediately drinkable alternative to Vintage port to be enjoyed by the glass on everyday occasions. It was first launched in 1970 by Taylor Fladgate's current Chairman, Alistair Robertson, with the Late Bottled Vintage 1965.
Although many other houses now offer this wonderful style of wine, Taylor Fladgate's LBV – the original Late Bottled Vintage – remains the benchmark in the category; the first choice of the knowledgeable Port drinker.
ABOUT THIS PRODUCER

Taylor Fladgate is one of the oldest of the founding Port houses. It is dedicated entirely to the production of Port wine and in particular to its finest styles.
Taylor, Fladgate & Yeatman (often simply Taylor Fladgate and trading under the name Taylor's) is one of the largest port wine houses.[1] Founded in 1692 in Vila Nova de Gaia, Portugal by Job Bearsley, becoming Taylor, Fladgate & Yeatman when Joseph Taylor, John Alexander Fladgate and Morgan Yeatman formed a partnership in 1838, it is also one of the oldest. The house owns the brands of Fonseca, Fonseca-Guimaraens, Taylor, Krohn and Croft. The house ships almost all types of port including vintage, tawny, ruby, late-bottled vintage, and white. The house invented the style of late-bottled vintage port. Taylor Fladgate's vintage ports are some of the most sought-after and expensive ports in the world.