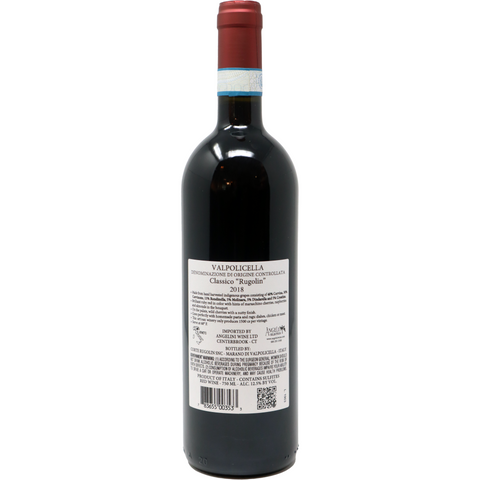 2018 Corte Rugolin Valpolicella Classico, Veneto, Italy
Made from Corvina, Corvinone and Rondinella grapes. This young and easy-to-drink wine shows a fruity aroma that reminds us of red fruits, plums and sour cherry, all balanced in flavor.
Located in the heart of the Valpolicella Classica region we find Corte Rugolin, an old rural estate - nowadays transformed into a winery - that can trace its history back to the 1600s. It enjoys an ideal microclimate, thanks to its ideal location, between the Lessini mountains, the plains and Lake Garda, which creates the ideal conditions for vine growing.
Corte Rugolin preserves the winemaking traditions that have been used for generations. In 1998, twin siblings Elena and Federico Coati took the reins of this tradition, and have been working together to make the Corte Rugolin project a reality.

The limited number of bottles produced annually allows them to offer a very refined, high-quality product, paying special attention to the 'appassimento' method, a centuries-old technique that distinguishes the winemaking tradition of Valpolicella in the production of the best red wines in the area. The best bunches of grapes are placed, one by one, and with extreme care, on crates/mats, and left to dry for three long months in special rooms known as 'fruttai' (pictured below), with a constant control of the environment and ventilation in order to guarantee optimal conditions for a successful drying process of the grapes. The result of this slow and delicate process is a substantial modification of the organoleptic notes that make these wines unique.