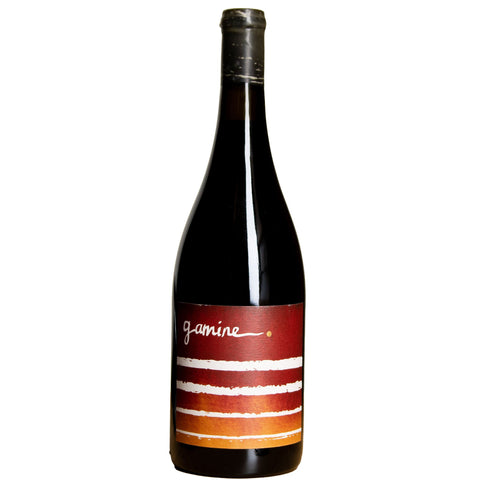 2018 Division Wine Co. ''Gamine'' Syrah, Mae's Vineyard, Applegate Valley, Oregon, USA
Fruitful, peppery, and gamey. A lighter style, Cornas inspired Syrah.
ABOUT THIS WINE
Kate is so honored that her personal wine project, Gamine Wines, has been so well received, compelling her to keep making the wines that are influenced by the regions, styles and varieties that her mother, Sylviane loves and drinks! (Think Champagne down to the Rhone!)
Kate partners with grower Herb Quady on her Mae's Vineyard Syrah. Herb grew up in the family of the famed Quady Winery in California's Central Valley, and later became the vineyard manager for Randall Graham's Bonny Doon wine empire, before coming north to southern Oregon with his sights on applying organic farming techniques to a region with mostly undiscovered vineyard potential. His Mae's Vineyard block slopes southeast into the Applegate Valley in what can only be said as one the prettiest spots we've seen in the state. Loamy/clay and marine sediment overlay sits on top of a large granite slab (yes granite!), which makes this a truly distinctive site to work with.
ABOUT THIS PRODUCER
Division Winemaking Company is a Portland, Oregon-based winery founded in 2010 by Kate Norris and Thomas Monroe.
Division represents a fresh generation of curious winemaking looking beyond the status quo to create unique wines from diverse grape varieties with both intention and a story.
Determined to make minimal intervention, approachable and balanced wines with great price to quality value, the winemakers work with terroir-expressive vineyards, focused on organic, regenerative and/or Biodynamic® farming.
Division Winemaking Company includes the flagship Division label, the quotidienne Division-Villages label, as well as Nightshade and Gamine labels – a combination of both joint and personal expressions from each winemaker.