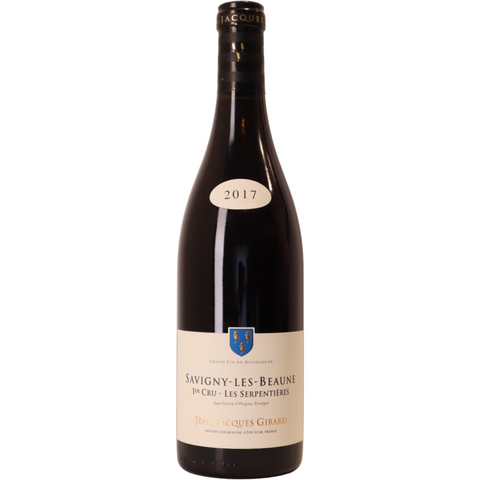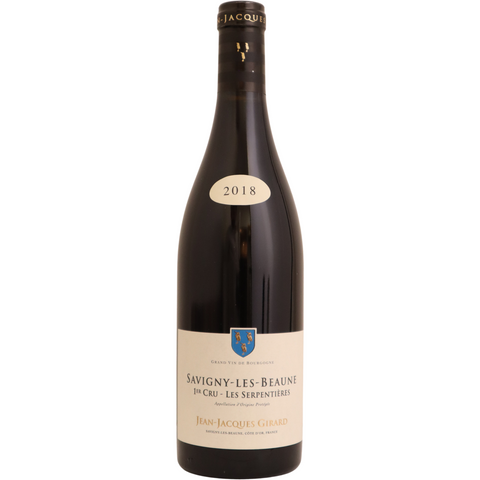 2018 Domaine Jean-Jacques Girard Savigny-les-Beaune 1er Cru "Les Serpentières", Burgundy, France
Intoxicating aromas of cassis, maraschino cherry, Burgundian truffle, and hints of licorice. Mouthwatering acidity, with a great balance that allow for the continuation of the aromas to make an impression on the palate. Excellent quality per price!
There are 9 units left in stock.
ABOUT THIS WINE
Les Serpentières refers to the former presence of snakes, attracted to the area by water sources. In the vineyards, grass growth is allowed but limited with regular plowing to maintain a natural soil balance. Moderate use of organic fertilizers and strict pruning to control yields. Green harvest only when necessary.
All Premier Crus are aged in oak barrels for around 15 months.
ABOUT THIS PRODUCER

About five centuries ago, Jean Girard began cultivating vines in Savigny-Les-Beaune. Seven generations later, Jean-Jacques Girard creates his own estate to perpetuate the family tradition. In 2008, his son Vincent joined him on the farm.Today, the family farm covers about fifteen hectares. It produces around 100,000 bottles a year. Its agriculture is based on a deep respect for the soil and the environment. For the development of these wines, it reconciles traditional know-how and new technologies. Domaine Jean-Jacques Girard grows Aligoté, Chardonnay, and Pinot Noir grape varieties. It exploits a rich and varied soil that extends to the communes of Savigny-Les-Beaune, Pernand-Vergelesses, Aloxe-Corton, Pommard, Volnay, Beaune, Chorey-Les-Beaune, Corton-Charlemagne. Like all the climates of Burgundy, domain parcels were registered with the world inheritance of UNESCO on July 4th, 2015.