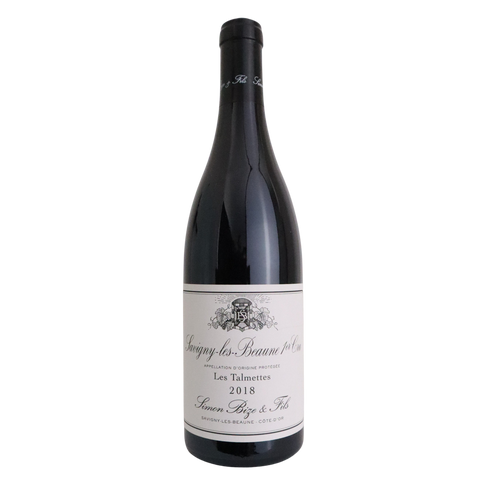 2018 Domaine Simon Bize Savigny-Les-Beaune 1er Cru "Les Talmettes", Burgundy, France
Fruit for 'Les Talmettes' comes from a top slope premier cru, nearly fifty years in age. The 2015 oozes with notes of black cherries and earth, with nuanced smoke and wet stone undertones. Chewy tannins and structured acidity make for an age-worthy bottle.
ABOUT THIS WINE
Les Talmettes is contiguous to Aux Vergelesses to the west, so it is south-facing. There are very few producers of Talmettes and was not produced as a single vineyard until 2007. Previously the wine was blended with Vergelesses but there was a new appellation rule that required it to bottle it as its own cru.
The Bize parcel of Talmettes is 0.80 hectare and planted in 1968 and 1978. The parcel is steep at the top, with a little sand mixed into a clay-limestone based soil.
ABOUT THIS PRODUCER

The winery's history begins in 1880 in Savigny-lès-Beaune. Since then many generations have followed, each contributing its own developments and knowledge to establish Domaine Bize as it is today. In 1880, the great grandfather Simon Bize owned a few vineyard parcels. It was a difficult period in viticulture, as all of the work in the vines was done by hand. In 1918, the grandfather, also named Simon Bize, assumed management of the winery, buying new vineyard parcels. With the help of a horse for plowing and new agricultural equipment, vineyard work became less tedious.
In 1950, the father Simon Bize undertook a decisive transformation of the domain. An excellent winemaker, he decided to bottle and sell his own wine, believing firmly in the importance of the relationship between 'the winemaker and his/her clients.' His savoir-faire permitted him to establish a client network of both private individuals and restaurateurs. The quality of his wine was recognized and appreciated by experts and connoisseurs. In 1972, Patrick Bize further developed his father's goals. He built a cuverie, expanded the barrel cellars, and bought new parcels to offer a new, more extensive range of wines. 2013 marked the passing of Patrick Bize. His wife Chisa, his sister Marielle, and the entire team carry on Patrick's ever-present goal of pursuing quality through careful and exacting work in the vines, working in harmony with nature, and striving to ensure the domain's future in a healthy environment.