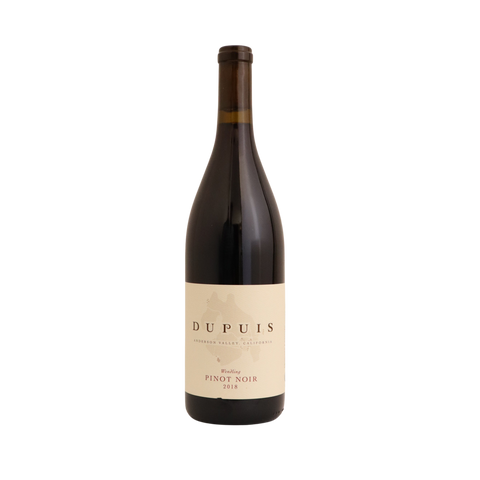 2018 DuPuis Wines Pinot Noir "Wendling", Anderson Valley, California, USA
Well, this wine will make you question, which side of the world you are in. Notes of red cherries, spices, red clay, and an intriguing hint of wet chalk bring freshness to the wine. Really stunning!
There are 10 units left in stock.
 ABOUT THIS WINE
The vineyard was planted in 2009 , located in the Deep End with selection massal clone of Pinot Noir planted meter by meter and farmed organically. The cold Deep End climate and low-vigor soils produce small amounts of concentrated aromatic wine with dark red fruit and balanced with vibrant acidity.
ABOUT THIS PRODUCER
During Wells Guthrie's stints working in the Northern Rhone Valley and Burgundy, he picked up the nickname Puis, meaning "well" or "wells." It's an older spelling of the word, and I was in France to learn about the old-world style of winemaking, so the name fit. 
He named his domain DuPuis Wines since du puis means "of wells." Dupuis Wines is purely from Wells—working beside his sole employee in the vineyard and winery, with time they added help of his wife, Kate, and their family when duty calls. All of their wines are purely sourced from Anderson Valley with the sole vision of continuing to explore, nurture, and elevate the greatness that exists in this valley. Wells stripped away the use of any new wood in order to further showcase the purity of fruit and unique attributes possessed by each of their vineyards. The resulting wines will deliver a more pure and precise expression of Anderson Valley.