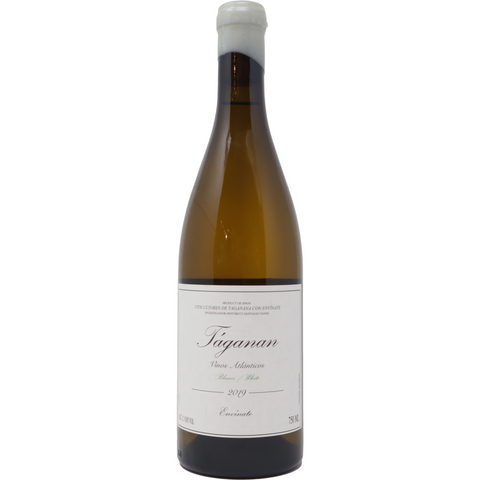 2021 Envinate Taganan Blanco, Canary Islands, Spain
This is an intense vino blanco with lots of personality and notes of nuts, smoke, and sea salt.
ABOUT THIS WINE
This cuvee is made from many different white grape varieties native to the Canary Islands, some of them unidentified, but include Listàn Blanco, Albillo Criollo, Marmajuelo, Gual, and Malvasia. The parcels are very old and planted in between 75-300 meters elevation right on the Atlantic Ocean and are farmed by 15 different families and Envínate. The viticulture in the Taganan area of Tenerife is very old-fashioned: the vines grow untrained, the soil is worked by hand, and no chemicals are used. The wine is fermented with wild yeasts by parcel, with some parcels getting a bit of skin contact, and then raised on the lees in steel vats and barrels for around 8 months. This is an intense vino blanco with lots of personality and notes of nuts, smoke, and sea salt - to pair with a wide variety of tapas, especially head-on prawns with olive oil and sea salt or Jamón Iberico.
ABOUT THIS PRODUCER
Envínate (translates as "wine yourself") is the brainchild of 4 friends, winemakers Roberto Santana, Alfonso Torrente, Laura Ramos, and José Martínez. This gang of 4 formed back in 2005 while studying enology at the University of Miguel Hernandez in Alicante. Upon graduation, they formed a winemaking consultancy, which evolved into Envínate, a project that focuses on exploring distinctive parcels mainly in the Atlantic-inflected regions of Ribeira Sacra and the Canary Islands. Their collective aim is to make profoundly pure and authentic wines that express the terruño of each parcel in a clear and concise manner. To this end, no chemicals are used in any of the Envínate vineyards, all parcels are picked by hand, the grapes are foot-trodden, and the wines are fermented exclusively with wild yeasts, with a varying proportion of whole grape clusters included. For aging, the wines are raised in old barrels and concrete, and sulfur is only added at bottling if needed. The results are some of the most exciting and honest wines being produced in Spain today.