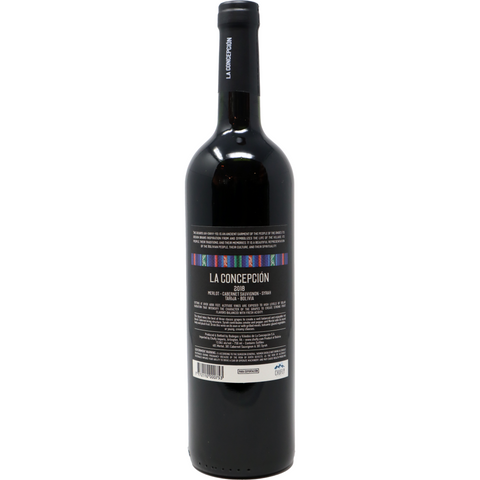 2018 La Concepción Red Blend, Tarija, Bolivia
This blend takes the best of three classic grapes to create a well balanced and enjoyable red blend. Cabernet brings structure, Syrah contributes smoke and pepper, and Merlot adds its round body and plush fruit.
La Concepción Wineries and Vineyards is a company with more than 31 years in the Bolivian market that is dedicated to the production of high quality wines. All their wines are made with grapes from their own vineyards and bottled in its own cellar. La Concepción is located in La Compañía district in La Concepción valley 28 kilometers from Tarija city, in southern Bolivia.
Seedlings from different grapevines were imported from France to Bolivia and all were significantly adapted to the land and altitude. This combination along with the low temperatures and high altitudes of the region has allowed vines to turn into a very high quality wines. Even though the vineyards in Bolivia are located south of the Equator and above the typical viticultural belt of the southern hemisphere, the climate is temperate and semiarid due to the high altitude of the valleys.
The inspiration behind Concepción's label design was to highlight Aguayo (ah-gwhy-yo), an ancient garment and textile of the people of the Andes.