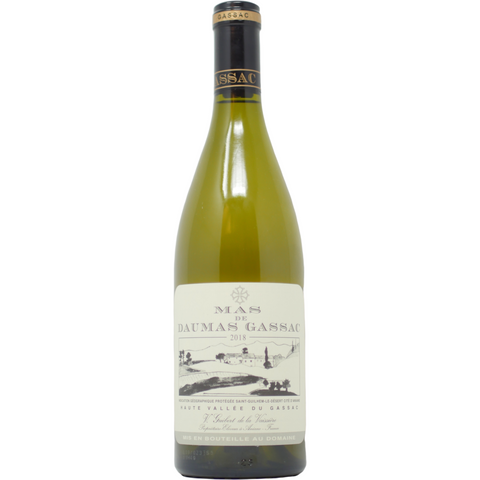 2018 Mas de Daumas Gassac Blanc, Languedoc-Roussillon, France
Pear, melon and tangerine notes mingle on the nose of this medium-bodied blend of Chardonnay, Chenin Blanc, Petit Manseng and Viognier. Like always, it's a touch off-dry on the finish, balanced by some delicate Viognier-derived tannins and peppery spice.
For many, this estate needs no introduction. Often referred to as the Grand Cru of the Midi (South of France), the Mas de Daumas Gassac top-tier wines have reached international cult status. in 1971 the Guibert family founded the Mas de Daumas Gassac estate on a historical farm with a unique and glacial terroir contributing to its reputation as the "First growth of the Languedoc".
With 67 estate vineyard plots, farmed in total respect of Nature and surrounded by the Garrigue forest, nature's balance and life have been totally preserved in this magical valley.
Aged appx. 4 months in stainless steel tank. Drink young (in the first 18 months) to appreciate its magnificent minerality and very complex fruit aromas. Or hold 4 to 12 years to discover a very rich wine with notes of honey and crystallized fruits. Delicious by itself as an aperitif or with oysters, foie gras or any grilled fish. Decant first - a truly unique experience!