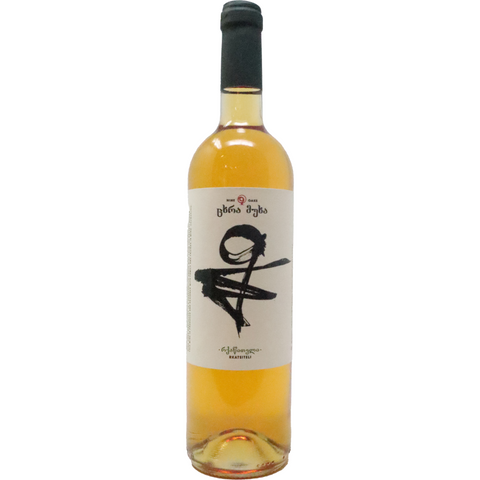 2019 Nine Oaks Rkatsiteli, Kakheti, Georgia
Unique color and texture as the white grapes are treated like red grapes and left in contact with the juice for 1 month. The tannins are reminiscent of herbal tea, dried spices, or herbs. The fruit leads with orchard fruits like apricot and peach.
ABOUT THIS WINE
FERMENTATION & EXTRACTION: Destemmed, naturally fermented without additional yeast, the grapes are left to macerate and ferment with their skins for up to 28 days in large 5600 liter Qvevri at a steady temperature of 72° F. Qvevri are handmade clay pots buried under ground.
ELEVAGE: After maceration, the wine is racked into a combination of Qvervi and steel tanks. During aging, the wine is transferred twice more, every few months, to naturally separate the lees from the wine. With each racking some of the wine is moved into steel tanks and the rest moved to Qvevri. After 9 months, wine is moved to tank and bottled before the next year's harvest begins.
FINING & FILTERING: No fining, cold stabilized, vegan.
SULFUR: A small amount of sulfur (about 5 ppm) is added after fermentation before the first racking. Added before bottling only when needed.
ABOUT THIS PRODUCER
Blossoming out of a loving friendship, the two partners, Anna and Mamuka, created a winery built on their love and passion for Georgia and its ancient winemaking history. Georgia is a UNESCO heritage site considered to be the birthplace of wine production. This winemaking history in the Kakheti region is home to the oldest known winemaking artifacts dating back to over 8,000 years!
Named after nine majestic oak trees standing tall on their family-owned estate in town of Eniseli, Nine Oaks uses only organically grown estate fruit to craft natural wines made from spontaneous fermenting native yeast, without the use of chemicals or added sulfites. The winemaker, Mamuka Khurtsidze, is an environmentalist and geographer who has dedicated his life to preserving Georgia heritage for the past 40 years. In 2011, indigenous grapes were planted on the 20-hectare estate and in 2017 the traditional 'Qvevri' were added to the winery for the aging of all wines. These large traditional clay vessels, Qvevri, (typically around 800 liters) are made by hand with clay and then buried underground to provide a stable temperature for aging both the red and amber wines.
Georgia is the birth place for the 'orange' or the amber wine style, which is gaining in popularity throughout the world. It was Italian producers from Friuli visiting Georgia and utilizing these technics which really sparked interest in this authentic style. The other half of this exciting new project is Anna Addison, an art director and designer who specializes in wine and spirit brands and is based out of Amsterdam. She is integral in closing the gap between this relatively undiscovered region of the world and the adventurous wine consumer. She brings the beautiful style to the production and look of Nine Oaks, as well as an infectious love and passion for these traditional wines. Her ability to make these obscure wines approachable and fun is a breath of fresh air for us.