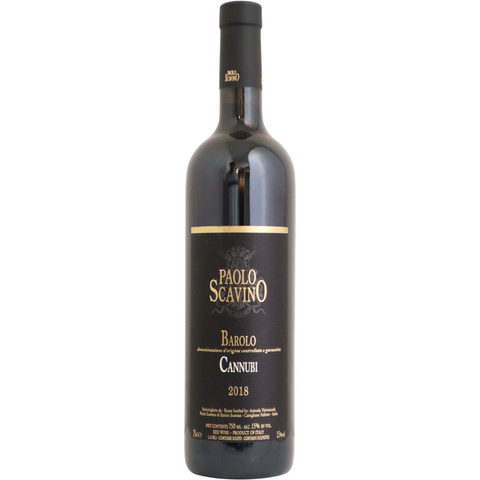 2018 Paolo Scavino Barolo "Cannubi", Piedmont, Italy
This is so perfumed with dried flowers, blackberries, spices and citrus peel. Medium-bodied with fine tannins that spread across the palate, giving this impressive focus and texture as you taste it. Like a real Cannubi, it's very elegant and approachable, but you know it's for the long term. Better in 2024 and onwards.
There are 7 units left in stock.
ABOUT THIS WINE
Cannubi is probably one of the most complex and fascinating areas of cru for Barolo and it's also one of the most historic vineyards in the territory. The name Cannubi was already present in some documents since 1700. The most ancient bottle found on the Langhe hills had on its label "Cannubi 1752".
100% Nebbiolo planted in 1946. The soil is a unique limestone-dominant Tortonian soil on a south-southeast-facing slope. Harvest is done by hand, normally in the second decade of October. Fermentation (20-30 days in average) in stainless steel with temperature-controlled and indigenous yeast. Aged one month in French oak barrels and a further 23 months in large casks, plus 8 months in stainless steel followed by 6 months in bottle.
ABOUT THIS PRODUCER
The most remarkable thing about Enrico Scavino is that even today, this man ever longs to make better Barolo. Generations at the helm of his family estate, founded in 1921, have already proven him a leader in the qualitative advances that have occurred in the Barolo area. And yet, he has never stopped the experimentation that has always kept him on the avant-garde of the Langhe area. He continues to vinify his wines parcel by parcel, taking advantage of these small fermentations to try to make better wines. In fact, in 2007 Enrico has even designed and fabricated his own fermentation vessel, used exclusively on his Barolo, to improve the finesse of extraction from his nebbiolo. Now with his daughters Elisa and Enrica working with him full-time, it would seem possible for this statesman—contemporary of Domenico Clerico and Elio Altare—to take a step back. Instead, Enrico's passion is further bolstered by the presence of the next generation! And speaking of family, I'd be remiss not to mention that Enrico's first cousin and neighbor is Luigi Scavino of Azelia fame. Alfonso, father of Luigi, and his brother Paolo, father to Enrico, divided ownership of the 11 hectare Scavino farm in the 1950s, giving each an equal share of the famed Fiasco hill.
Castiglione Falletto lies in the very heart of the Barolo area — its soils are of both tortonian and helvetian origins, stratified amongst each other. In other words, crus in Castiglione like Bric del Fiasc (or even Bricco Boschis for that matter) combine the elegance of Barolo and La Morra with the power of Serralunga and Monforte! The first vintage of Bric del Fiasc was 1978—as a Barolo Riserva—hence the release this year of the 30 year anniversary Bric del Fiasc Riserva 2008 (AG:97+). But Enrico never closed his eyes to the beauty of the neighboring communes: in 1985 he signed a long-term lease on a small parcel in Cannubi in Barolo. Next, in 1990, he acquired a piece of the famed Rocche Annunziata cru in La Morra. In 2002, with the help of Domenico Clerico, he purchased a piece of Bricco Ambrogio, the most renown vineyard in the commune of Roddi. And most recently in 2007 he added a piece of Monviglero, considered the grand cru of Verduno.
Winemaking at the estate has evolved over time—but the one constant, even from the days of Enrica and Elisa's grandfather, was hygiene: the cleanliness of the winery and health of the grapes remain paramount. Technology has had its influence: Enrico recalls working the vineyards with oxen and horses, and said of the purchase of his first tractor "I couldn't have been happier if my father had gifted me a Ferrari!" In 1993, rotofermentors arrived at the estate, and between 1996-1999, Slavonian casks were replaced with French oak—but barriques here were always and only used for the first 10 months of aging to help fix color before the wines were transferred to larger oak botti. The percentage of new oak has been much reduced from a height of 30% from the 1990s to 2004, to only 20% new from 2004 – 2008, 17% new in 2011 & 2012, and for the 2015 harvest they have even reduced to a further 14% new. Quality control is crucial. Scavino could make more wine—but the estate chooses to sell off from 10-30% of the production in bulk to maintain their super high standards. This small family farm—which essentially started with 5.5 hectares—now manages 29 hectares of vineyards, and regularly finds itself classified amongst the other top estates of the region.