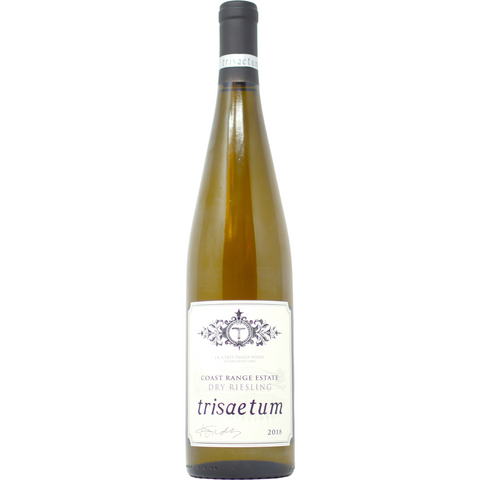 2018 Trisaetum, Coast Range Dry Riesling, Oregon, USA
Chalky minerality with fresh, citrusy notes on the nose; the palate is strikingly concentrated and piquant, while the bright acidity is perfectly interwoven with the elegantly refined fruit, leading to a long, intense, very balanced finish.
In 2003, James and Andrea purchased a steep and rocky site five miles outside the town of McMinnville. They moved their young children to Oregon, planted a vineyard, and founded Trisaetum (tris-say-tum) in one of the few places where climate, soil, and entrepreneurial spirit combine to produce some very special wines. Two years later, they found another piece of land twenty minutes away on Ribbon Ridge, cleared the site, planted a second vineyard, and eventually built the winery where the wines are made today.
The name Trisaetum is an amalgam of James and Andrea's two children---Tristen and Tatum.
Not having gone to school for wine, James Frey trained himself to become a winemaker with the help of mentors like Oregon's Josh Bergström and Burgundy's Jacques Lardiere.
Since the family lives on site, James and Andrea have been committed to farming in a manner that creates a healthy and diverse ecosystem. This includes preservation of the natural habitats that surround their vineyards, dry-farming, never using herbicides, never tilling, extensive composting, bee-friendly viticulture and hand-harvesting every cluster.
Today, Frey Family Wines encompass the brands of Trisaetum (Willamette Valley); 18401 Cellars (Walla Walla) and Pashey (Sparkling); all produced by James at the winery on Ribbon Ridge.