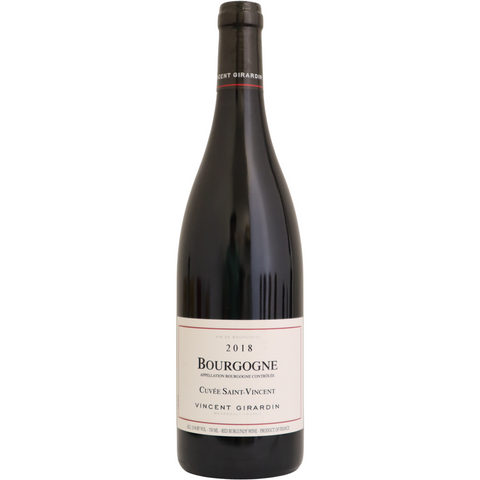 2018 Vincent Girardin "Cuvée Saint-Vincent", Bourgogne Rouge, Burgundy, France
A ripe nose of black fruits. On the palate a easy, not at all rustic. Juicy with some walnut and a little bit of earth and tobacco. Some side tannins and a slight dryness on the finish.
ABOUT THIS WINE
The grapes come from the vineyards situated on the regional appellation area on the Côte de Beaune. Clay and limestone. Manual harvest, sorting on vine then on a sorting table (depending on certain years, u of an optical sorter) and then at the winery. The grapes after a light crushing and destemming are put whole in stainless steel tanks. A small part of the whole harvest can be incorporated depending on the state of the raw material. After a cold maceration of a few days, the active phase of fermentation takes place with temperature control. During this period, the wine is pumped over and/or punched down. After pneumatic pressing the wines are put into barrels (about 30% new wood) where the maturing process takes place. 15 months for this wine, during which time the malolactic fermentation took place. One month before bottling, the wine from the different barrels is assembled in vats. There is no gluing, just a light lenticular filtration before bottling. Some modifications on the overall technique can be made depending on the vintage. The bottling is done according to the lunar calendar.
ABOUT THIS PRODUCER

The history of Maison Vincent Girardin is relatively recent. In 1980, at the age of 19, Vincent Girardin, the son of a family of winegrowers based in Santenay since the 17th century, decided to strike out on his own and began producing wine from five acres of vines that he had inherited from his parents. From his earliest youth, Vincent had a passion for working with vines and great respect for the potential that they represent, and his ambition was to produce his own wine. The quality of his wines was quickly recognized by connoisseurs all over the world, and this enabled him to expand his activity, focusing primarily on the great white and red wines of the Côte de Beaune. To cope with the growing demand for his wines, he developed an approach that was new in Burgundy: he purchased grapes from producers who shared the same philosophy and the same high standards. In 2012, Vincent Girardin sold his operation to a long-standing partner of the Maison. Jean-Pierre Nié, President of the Compagnie des Vins d'Autrefois in Beaune, naturally decided to continue with the small team of nine people that had been faithful to the Maison for many years. Today, Eric Germain continues to uphold the style of the wines, and Marco Caschera markets them all over the world.