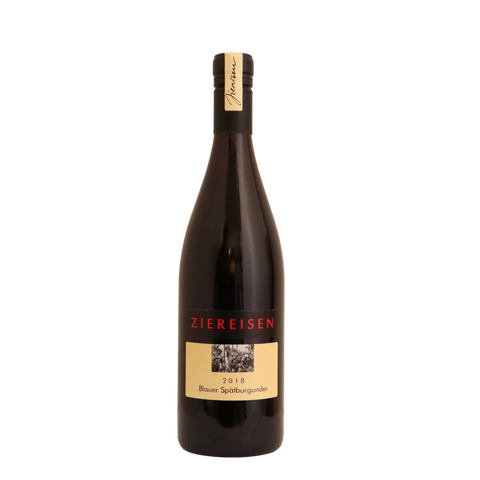 2018 Weingut Ziereisen Blauer Spätburgunder, Baden, Germany
In the glass, it's a translucent, slightly cloudy garnet-red with pink reflections, with inviting aromas of red and black cherry, wild strawberry, rhubarb, rose petals, and lots of underbrush, smoke, leather, and herbs. It is medium-plus in body, with exceptionally refined tannins, and a great example of how important balance is to a wine's longevity.
ABOUT THIS WINE
The "Talrain" site is located about a half-hour away from the winery, further into the forest and reaching past 500 meters, making it one of the highest-elevation sites in Germany. The soils of iron-rich clay/loam over Jurassic limestone complete the perfect Pinot Noir picture, and the wine is thrillingly evocative of its place.
ABOUT THIS PRODUCER
Ziereisen is located in the very southern part of Baden in a town called Efringen-Kirchen, directly on the Rhine river at the border of Alsace and Switzerland. The area is called Markgräflerland; another name is the Dreiländereck – the "three country corner": Basel, Switzerland is the closest city, just 15 kilometers south. Here, Hanspeter and his wife Edel produce outstanding Pinot noir and Chasselas (also called Gutedel or Fendant) as well as a bit of Syrah, Chardonnay, Pinot Gris, and Blanc. We hear the same mantra at this domaine that we hear in all of the top estates that we work with: "Quality is made in the vineyard. We work with utmost care to create the conditions for high-class wines. In the cellar we only do the minimum of work necessary allowing the wines to rest and time to mature. The French swear by their terroir – in this respect I am a Frenchman." Says Hanspeter Ziereisen
"Our philosophy is that wines should reflect their provenance as purely as possible. This is why we treat our vines and wines with great care by minimizing chemical treatments and filtration. In the vineyards, we try to make use of the traditions that our ancestors passed along to us. We produce muscular wines. Not sumo wrestlers but decathletes; smooth, elegant, strong, and athletic. Strength and balance is our target. We aim to achieve a balance between acidity, tannin, alcohol, and aroma. Recipe winemaking is a horror for us. Individuality is the signature of Ziereisen."
Of course, Burgundy is the homeland of pinot noir, as well as Pinot Blanc, Pinot Gris, and Chardonnay. Efringen-Kirchen's climatic conditions, coupled with limestone soils, correspond to the conditions of Burgundy. The average temperature is similar to that of Burgundy. Chemical fertilizers and sprays are strictly avoided in the vineyard, though this estate is not certified organic. Work in these south-facing vineyards is of paramount importance. "Handcrafted work is not exceptional for the Ziereisen family, it is standard." writes Hanspeter.