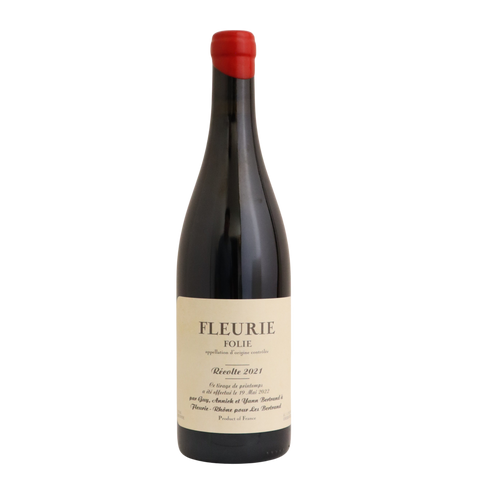 2021 Yann Bertrand Fleurie "Folie", Beaujolais, France
Light and brilliant with its aromas of ripe fruits, marvellously blending delicacy and elegance, this thirst-quenching wine adapts to every situation and will delight your friends at apéritifs! A real treat... One glass won't be enough!
ABOUT THIS WINE:
Fleurie Folie comes from the youngest wines at Grand Pré which are "only" 30-60 years old. It's meant to be the most approachable wine right after bottling, but still packs plenty of delicious Gamay and Beaujolais joie de vivre into each bottle. Like everything at the domaine, this wine is naturally vinified without any added yeast or SO2.
ABOUT THIS PRODUCER:
Growing up in Fleurie, Yann Bertrand vines are farmed organically and located in a single 7.5 hectare block known as Grand Pré. The vineyards are 30-110 years old, planted on extremely fine sandy granite soils, and all winemaking is done using cold carbonic whole cluster fermentations that were developed in the Beaujolais, as well as no added SO2. Yann's parents had been slowly moving in the direction of organic viticulture since they took over the family domaine in 1992, and in 2013, the entire vineyard was certified organic. Additionally, Yann took on 1.5 hectares to farm on his own using biodynamic principles. Thanks to incredible farming and knack for Gamay, Yann Bertrand has justifiably become one of the most sought-after producers in the region.