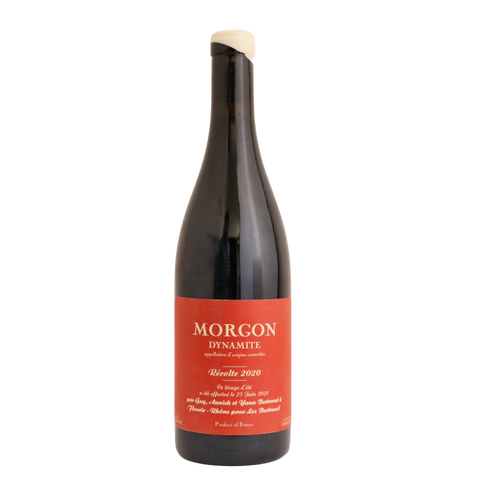 2021 Yann Bertrand Morgon "Dynamite", Beaujolais, France
A raw and lively taste of Cru Beaujolais granite from 100-year-old Gamay vines. Raspberry jam meets bloody rare steak. In a good way.
ABOUT THIS WINE:
Morgon Dynamite is the confidential cuvée made from the tiny sliver of vines at Grand Pré that reach across the boundary into Morgon. So while the label says Morgon, the soul is definitely in Fleurie. Like everything at the domaine, this wine is naturally vinified without any added yeast or SO2.
ABOUT THIS PRODUCER:
Growing up in Fleurie, Yann Bertrand vines are farmed organically and located in a single 7.5 hectare block known as Grand Pré. The vineyards are 30-110 years old, planted on extremely fine sandy granite soils, and all winemaking is done using cold carbonic whole cluster fermentations that were developed in the Beaujolais, as well as no added SO2. Yann's parents had been slowly moving in the direction of organic viticulture since they took over the family domaine in 1992, and in 2013, the entire vineyard was certified organic. Additionally, Yann took on 1.5 hectares to farm on his own using biodynamic principles. Thanks to incredible farming and knack for Gamay, Yann Bertrand has justifiably become one of the most sought-after producers in the region.