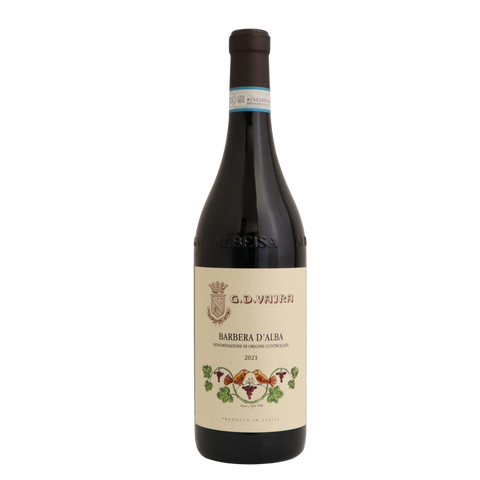 2022 G.D Vajra Barbera d'Alba, Piedmont, Italy
Great persistence and balance, with a velvet finish. Rich on the nose, it is both fresh and harmonious: floral and fruity notes give way to hay, tobacco and spices. On the palate again delicious fruits and graphite.
ABOUT THIS WINE
100% Barbera. Blend of estate vineyards. Harvested between September 15th and 20th. Each parcel was individually fermented for an average of 15-20 days. Aged for approximately 5 months in stainless steel, with a tiny amount of neutral barrels prior to bottling. Bottled on April 15th, 2023.
2022 Vintage Report:

"The year started with extremely dry weather and warm daytime temperatures. By March, the water table was partially restored due to snow and rainfall in the mountains. Budbreak began on March 25th and the following two months saw a succession of gentle rainfall as well as very severe hailstorms that our vineyards luckily avoided. After a progressive flowering, warm weather settled in early June and lasted through the summer. Once September came around, the temperature dropped, resulting in ideal conditions for the Nebbiolo harvest. Picking started on August 16th and was completed by October 14th. 2022 was a great reminder of how beautifully resilient vines are, and resulted in low yields yet vibrant, flavorful and juicy wines."

ABOUT THIS PRODUCER
The Vajra family has farmed Bricco delle Viole, the highest cru in Comune di Barolo, since the 1880s.
Aldo Vajra acquired the first organic certification of the region (1971), created private biotype selections (selezioni massali) of Nebbiolo and Dolcetto, pioneered the renaissance of Freisa, a noble yet forgotten local grape (1980) and the cultivation of Rhine Riesling in Piemonte (1985). When Aldo met Milena, who shared the same love for farming, a romance blossomed turning into the wonderful bouquet that the Vajra family represent.
High elevation vineyards are a unique factor to the Vajra wines, for their ability to express finesse and remarkable complexity over power. Dolcetto Coste & Fossati and Barbera d'Alba Superiore are a testament of the Vajras' love for each grape, thus allocating top vineyards for these amazing native varietals.
Attention to detail and humility towards nature, un-compromised efforts and humanity: so are Aldo and Milena, now joined by their energetic children Giuseppe, Francesca and Isidoro, and by an amazing team of young professionals, in their quest for an authentic expression of their land into the wines.
G.D. Vajra is an independent winery, entirely family-owned.