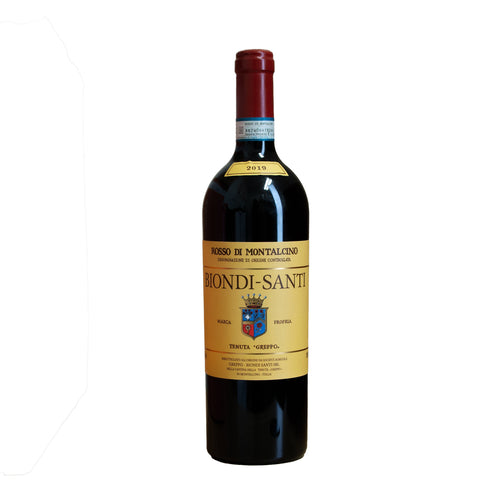 2019 Biondi Santi Rosso di Montalcino, Tuscany, Italy
Energetic notes of cherries, blood oranges, pomegranate, violets and honeysuckle, followed by balsamic sensations of kitchen herbs, licorice root and menthol. The nose and palate are fully aligned as the crunchy tannins and lively acidity blend in with this Rosso's impressive, levigated fruity core, leading us towards a savory finish with long-lingering mineral notes. The longer the wine is allowed to breathe in the glass, the more the impressive weight and depth of this marvelous vintage show their character.
ABOUT THIS WINE
This wine was originally known as the Biondi-Santi "White Label Brunello", but changed its name in 1983 when the Rosso di Montalcino DOC was established.
It reflects the signature style of our high-altitude vineyards with vibrant freshness and distinct fruitiness, making it thoroughly enjoyable at a young age.
The grapes for the Rosso di Montalcino 2019 were selected from the following estate vineyards: Tenuta Greppo, located to the south-east of Montalcino, Ribusuoli, located just below Tenuta Greppo and Pievecchia, located to the north of the town of Montalcino.
ABOUT THIS PRODUCER
It is a rare phenomenon that a wine can trace its origins to a single man. Brunello di Montalcino, however, owes its existence to Ferruccio Biondi-Santi and its fame to his family. Now on the seventh generation of winemakers, the Biondi-Santi family continues to produce wines renowned for their elegance and extraordinary longevity. Located in the heart of Montalcino, the Tenuta Greppo estate spreads over 25 hectares of vines on soils rich in heavy stones and marl – perfect for the cultivation of Sangiovese Grosso. Defenders of a rich enological heritage, the family continues to employ traditional vinicultural methods started well over a century ago to highlight the wine's unique characteristics.