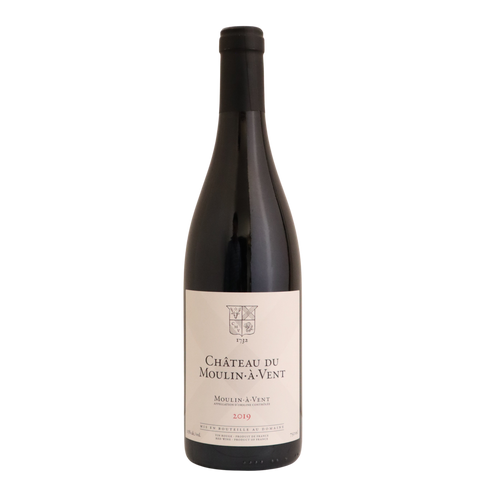 2019 Château du Moulin-à-Vent , Moulin-à-Vent, Beaujolais, France
A handsome, deep red color with purple tints and lovely aromas, with perfectly mature red and black
fruit, hints of spice and floral notes of rose, peony and violet. Good body with fine tannins and good
length. Rich, opulent and complex, finishing on a spicy note.
There are 13 units left in stock.
ABOUT THIS WINE
Moulin-à-Vent's weathered granite soils are thin, with sandy pockets,
enriched by high mineral nutrients and a granite bedrock with seams of
manganese, copper, iron and other metallic oxides. Its clay-rich soil contains five
minerals, giving the wine its unique character. The powerful winds blowing on
the appellation have a decisive impact on the maturation and concentration of the
berries, and depth that give the wine its instantly recognizable intensity
ABOUT THIS PRODUCER
Located in the southernmost tip of the Burgundy region, Moulin-à-Vent was one of the first appellations awarded AOC status in 1936. Château du Moulin-à-Vent, named for the 300-year-old stone windmill atop the hill of Les Thorins, dates back to 1732, when it was called Château des Thorins. Today, the estate encompasses 37 hectares (91.4 acres) of the appellation's finest climats — Les Vérillats, Le Champ de Cour, La Rochelle — planted to Gamay Noir averaging 40 years in age. The underlying granite soil is rich in iron oxide, copper and manganese, which may account for the wines' aging potential. Since 2009, under the new ownership of the Parinet family, investment in the winemaking facilities and the vineyards has resulted in plot-specific signature wines expressing the individual characteristics of each exceptional terroir.