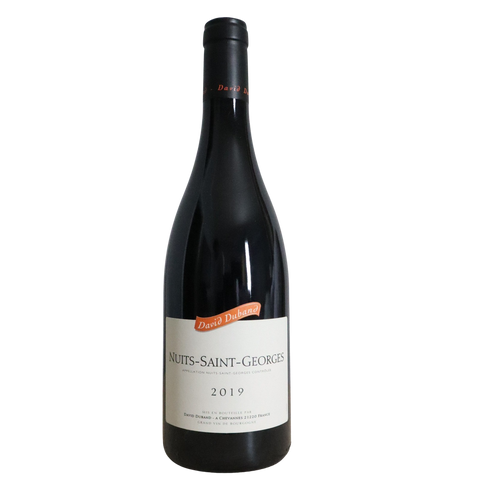 2019 David Duband Nuits-Saint-Georges, Burgundy, France
A relatively airy and cool nose freely offers up notes of various red berries, earth, and a floral top note. The sleek and relatively refined middle-weight flavors contrast somewhat with the youthfully austere and mildly rustic finale that exhibits slightly better depth and persistence on the more structured finale. This is quite a good Nuits villages and worth a look.
There are 15 units left in stock.
ABOUT THIS WINE
The elegance of this Nuits-Saint-Georges can be equally credited to the dominant portion being from the north hill of the appellation closer to Vosne-Romanée as David's deft touch in the cellar. The texture has a great balance of grip for an appellation that often delivers hard, dry tannins. Here they leave the palate refreshed instead of parched. 80% of this wine comes from two vineyards, La Charmotte and Aux Saints-Juliens, both located on the Vosne-Romanée side of the appellation and Les Plateaux on the south hill facing east and slightly north.
ABOUT THIS PRODUCER

Regarded as one of the rising stars of Burgundy, David Duband took over his family domaine (Hautes Cotes de Nuits located just west of Nuits-St-George at altitudes up to 400 meters) at a very young age and now has more than 20 vintages of experience behind him. Starting with very small family holdings  David with his business partner Francois Feuillet, has added to his portfolio of wines through the purchase of some exceptional old Grand cru vineyards throughout Gevrey Chambertin and Morey St Denis.
David has adapted his work in both the vineyards and cellars in the last few years and is producing wines with not only remarkable finesse and detail but also exhilarating intensity and freshness. Working organically in the vineyards and with low levels of S02 in the cellar he also uses a relatively high percentage of whole bunch ferment and a low percentage of new oak for aging and this is adapted to each wine as it needs. This results in wines of striking purity with fabulous depth and intensity without sacrificing the details of the origins of each parcel of grapes. These are wines showing terroir and the soil signature of the fruit for each parcel above all else. These are wines that are built to age classically and gracefully.