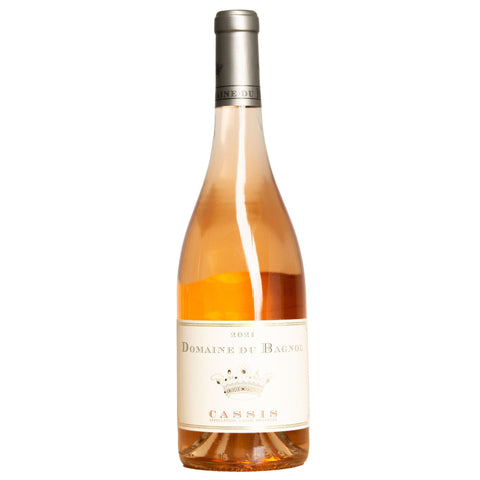 2021 Domaine du Bagnol Cassis Rosé, Provence, France
A very nice rosé, expressing fine citrus notes while retaining the specificity of the appellation with its saline accents on the finish. Its balance plays on the freshness, the greediness of the fruit, its elegant minerality and its smoothness on the finish.
ABOUT THIS WINE
The Rosé is produced from several parcels that comprise slightly less than 7 hectares of vineyards. The vineyards are clay and limestone, situated on a gentle slope with a north – northwest exposure. The blend is Grenache (55%), Mourvedre (31%) and Cinsault (14%). This Rosé is vinified by "pressurage direct, the must is chilled to 12 degrees Celsius, the wine ferments at 18 degrees Celsius until it is completely dry; then, the wine is bottled during the first three months of the following year after a light filtration.
Farming: Certified organic by Ecocert since 2014, practicing organic long before. Practicing Biodynamic. Treatments: Only copper sulfate is used to treat vines.
Ploughing: Annual ploughing, working of the soil by tractor
Soils: All three Cassis soils are represented at the domaine: red clay, marl, and Triassic limestone.
Vines: Head-trained vines, averaging over 40-years old, that are replanted on a vine-by-vine basis to maintain a healthy vineyard. All vines are planted from Massale selections.
Yields: Old vines naturally control yields, which are further supressed with debudding.
Harvest: Hand picking in the morning to ensure grapes arrive cool to the cellar, where they are sorted. Harvest runs from the end of August to mid-September, according to the moon
ABOUT THIS PRODUCER
Situated steps from the Mediterranean in the Provençal fishing village of Cassis, the Domaine du Bagnol controls 17 ha of vines (9 ha leased, 8 ha owned) beneath the imposing limestone outcropping of Cap Canaille. Thus situated, the Domaine du Bagnol is the beneficiary of cooling winds from the north, northwest, and northeast (Tramontane, Mistral and Grégal), along with the gentle sea breezes that come ashore, ensuring wines of freshness and balance. Rosenthal's love affair with this estate began in the early 1980s when they first met Claire Lefevre, with whom Rosenthal Wine Merchants worked until her passing in the early 1990s. So, the Domaine du Bagnol was sold, which, in fact, was fortunate for us, as the new owner, Jean-Louis Genovesi, a Cassis native who had departed for Paris and made his fame (and a few centimes as well), and his son, Sébastien, have revived the domaine and made the wines (blanc, rouge, and rosé) more compelling than ever