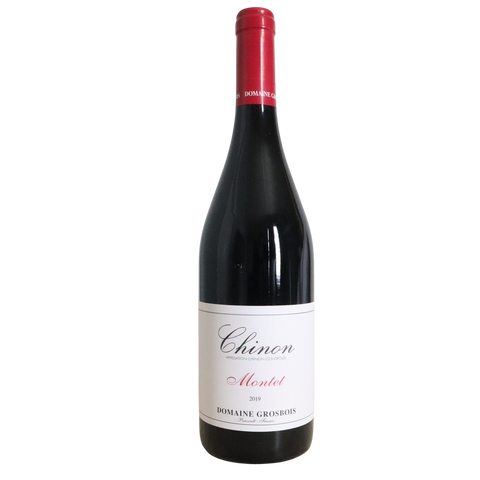 2019 Domaine Grosbois Chinon "Montet", Loire Valley, France
This wine opens with a bouquet of wild strawberries, white flowers, licorice, and a hint of cacao. Fresh and sharp, but with a generous and serious mouthfeel.
There are 1 units left in stock.
ABOUT THIS WINE
100% Cabernet Franc. This vineyard of two hectares, situated in the municipality of L'île Bouchard, east of Panzoult is planted on a slab of limestone and in close proximity of the Vienne. The roots are established directly in the tuffeau (local yellow limestone,) this chalky topsoil, that you can touch and which brings freshness, acidity, and grip to the wine. 
Naural covercrops and plantation of hedges. Hand harvested, completely destemmed. and examined under the sorting table. Vinified without sulfur, minimal adjustments made during bottling.

ABOUT THIS PRODUCER
The Grosbois brothers roamed the world before placing roots in the land of their ancestors. Nicolas, the eldest, made wine in New Zealand, Australia, Oregon, and Chile, while Sylvain, his younger brother explored winemaking in Argentina, Italy, Spain, and Australia. They returned full of knowledge and ideas, joining a new generation of winemakers in the Loire Valley. Their family domaine sits in the heart of the Loire Valley, in Panzoult, on the right bank of the Vienne between Tours and Saumur, around the site of the Pressoir (means winepress in english), an ancient fortified farm from the 15th century. The land of the domaine has always been one of polyculture, which today provides for the cultivation of organically grown vegetables and wheat crops. Thanks to the spirit of local farmers and the Grosbois family, the domaine is one of the only farms in the region to have been able to resist the temptation of dividing the land, leaving intact the biodiversity of the plot. Nicolas and Sylvain's parents, Jacques and Jocelyne, moved to the Grosbois family farm in 1991 to take on the management and farming of the vines. They passed the torch on to Nicolas in 2008, with Sylvain joining him in 2019, reuniting the family at last.