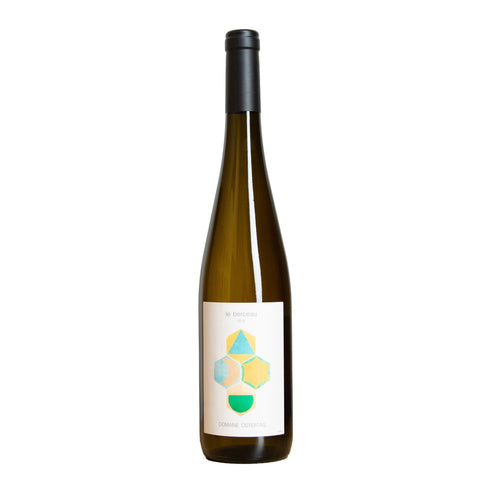 2019 Domaine Ostertag "Le Berceau Lieu-Dit Pflanzer" Riesling, Alsace, France
An elegant nose of acacia blooms, rose water, lavender, and delicate spices. Subtle honey, ginger and cardamom. The palate is just as complex and wonderfully balanced, between sensual flowers, white fruits, mirabelle plum, mango and apricot coulis, citrus liqueur and a myriad of refined spices. Throughout the tasting, the wine progresses serenely and continues to gain in intensity, carried by a peppery minerality that ends up triumphing over the finish.
ABOUT THIS WINE
Sourced from the lieu-dit Pflanzer. Pflanzer means "the planter" in Alsatian. This lieu-dit was originally used as a vine nursery because the soil is fertile and well-ventilated. Fermentation lasts 18 months in stainless steel. The wine completes malolactic fermentation and is aged 20 months in stainless steel


ABOUT THIS PRODUCER

André Ostertag's winery is a complex of buildings on the edge of the town of Epfig, which lies midway between Strasbourg and Colmar, about 35 kilometres from each. Epfig is 5 km east from the long snaking line where the Alsace vineyards hug the lower hills of the Vosges Mountains, and it is one of the few wine towns/villages that doesn't sit bang on the wine route. See the map for the location. The Romans settled here and named their village Epiacum. We assume they planted a few vines, and fragments of Roman pottery continue to turn up as the vineyards are worked.

The Ostertag domaine was established in 1966 by Andrés father, and that counts as start-up material in Alsace, where domaines often go back ten to fifteen generations. André took over in 1980 following winemaking studies in Burgundy. In Alice Feiring's recent book The Dirty Guide to Wine, she writes that the Alsace region is filled with philosophers and thinkers, and immediately goes on to quote André Ostertag. Often referred to as a philosopher and poet, we also see André as a director, maître de scene, auteur, and transformer.