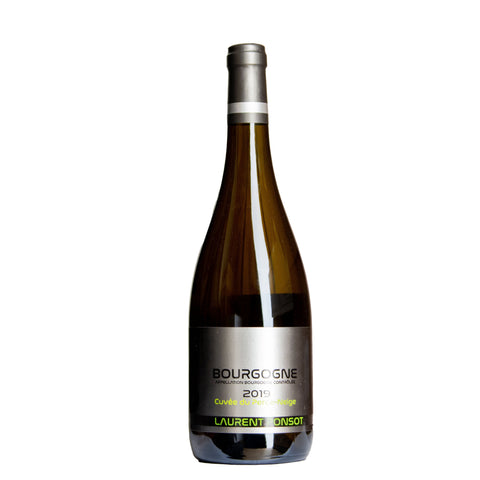 2019 Laurent Ponsot Bourgogne Blanc "Cuvée Du Perce-Neige", Burgundy, France
A pretty nose is composed by notes of essence of pear, apple and a hint of tangerine zest. The sleek, delicious and nicely intense flavors possess very good depth and persistence on the slightly warm finish for a wine of this level.
ABOUT THIS WINE
This fine Burgundy white is pale gold in colour and occasionally features silvery yellow reflections. The nose is marked by notes of hawthorn flower, liquorice, lemon and grapes, with warmer nuances of honeysuckle, pear, brioche, iodine, marzipan, nuts, peach and pineapple. On the palate, expect fleshy fruit, with a fresh, saline and lean finish featuring liquorice and exotic fruit aromas.
The freshness and fruity and accessible suppleness of a Bourgogne Blanc make it perfect for a buffet supper of chilled and savoury tapas, or a brunch with soft-boiled eggs and herbs, mushrooms stuffed with shrimps, fromage frais and chives, roasted fish, roasted vegetables with feta, spinach and ricotta ravioli, etc.
And of course this wine is the faithful companion of Burgundian dishes such as gougères (cheese choux pastries), snails and ham and parsley terrine.
ABOUT THIS PRODUCER
After 36 years at Domaine Ponsot, Laurent Ponsot left the family domaine in February of 2017 to pursue a new wine adventure. He is joined in this new endeavor by his son, Clément, whose excitement for winemaking is as strong as his own, while his other two children, Claire and Nicolas, also hold shares in the company. Embodying his pioneering spirit, the company is named after Laurent himself who values humility, respects nature, and enjoys above all else the great pleasure of winemaking. Laurent's resolute quest for an alliance between history and innovation continues, and he will retain all of the fruits of his past research, such as the perfect closure, élevage without sulfur but under neutral gas, temperature-controlled "intelligent cases", and the protection of authenticity. Through these innovations, his goal, as always, will be to provide consummate, authentic examples of great Burgundy wines.