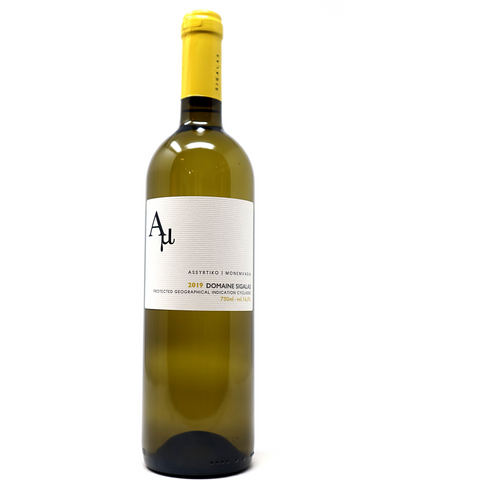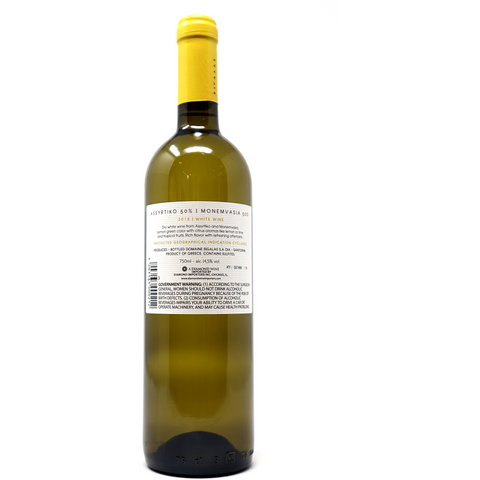 2019 Domaine Sigalas "AM" Assyrtiko Monemvasia, Cyclades, Greece
This is a delightful marriage of 2 grapes that are indigenous to Santorini: the Assyrtiko variety, intense, earthy, and clearly expressing the volcanic island soil; and the more aromatic and floral Monemvasia, Try with shrimp in herb sauce!
Domaine Sigalas was founded in 1991 by Paris Sigalas, Christos Markozane and Yiannis Toundas. Initially, Sigalas made his wine at the converted Sigalas family home. In 1998 a new vinification, bottling and aging unit was built in a privately owned area of Oia, on the northern part of Santorini.
Sigalas has been a pioneer in the organic viticulture and has participated in a government organic farming methods program since 1994.
Paris Sigalas remains committed to the founding principles of Domaine Sigalas – a creative relationship with the tradition, the Santorini Vineyards as well as the use of the best in winemaking technology and experience.
Sigalas concentrates on native grape varieties works most closely with Assyrtiko, but also has plantings of Athiri, Aedani, Mandilaria and Mavrotragano. The winery owns 14 hectares of organically grown Assyrtiko and includes permanent cooperation with local grape producers. Recently under cultivation are another 4 hectares of Aedani and Mavrotragano, 2.5 hectares of Assyrtiko and in the near future plans to add another 15 hectares of Assyrtiko.