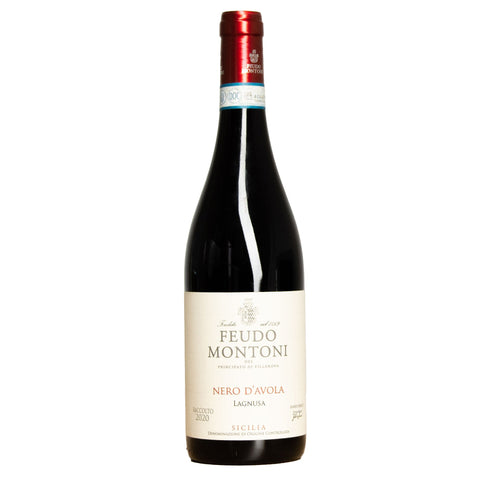 2020 Feudo Montoni "Vigna Lagnusa" Nero d'Avola, Sicily, Italy
Delivers wild strawberry, raspberry and red licorice notes that are expressive and juicy, with tea rose, thyme and tar notes and bright orange peel acidity. Long and creamy on the palate, with fine, chalky tannins.
ABOUT THIS WINE

Feudo Montoni is located on the western side of Sicily, situated on clay and limestone soils rather than Etna's typical volcanic soils. Lagnusa means lazy in the local dialect, and refers to the vines' low yields. This Nero d'Avola is dark-fruited, juicy and lightly spicy, with fresh acidity and enticing berry aromas. Aged 20 months in cement, 4 months in barrel, and 4 months in bottle.

ABOUT THIS PRODUCER
Feudo Montoni has been producing top-quality wines on its historic grounds since 1469, and is currently overseen by Fabio Sireci, the third generation of a family dedicated to producing the most refined expressions of this long-cultivated terroir.
Today, the certified organic winery produces many of Italy's most celebrated 100% indigenous varietals—Perricone, Nerello Mascalese, Catarratto, Grillo, Inzolia and Passito—in addition to the purest expression of Nero d'Avola.
Sireci is particularly proud of the organic farming methods, artisanal cellar practices and renewable energy sources he's implemented and maintained, which he says preserves the grapes' natural flavors and nuances. "We keep the vines rustic, so the foliage is free to express itself," he says. "The vineyards are not fertilized—we condition the land by sowing broad beans and peas, and we do not use any chemical products."
All operations in the vineyard are undertaken completely by hand, and the results speak for themselves: thanks to the Sireci family's dedication and the vineyards' high altitude, fluctuating temperatures, plentiful rainfall and neighboring olive and wheat plots, Feudo Montoni wines have staked their claim among the finest in the region.