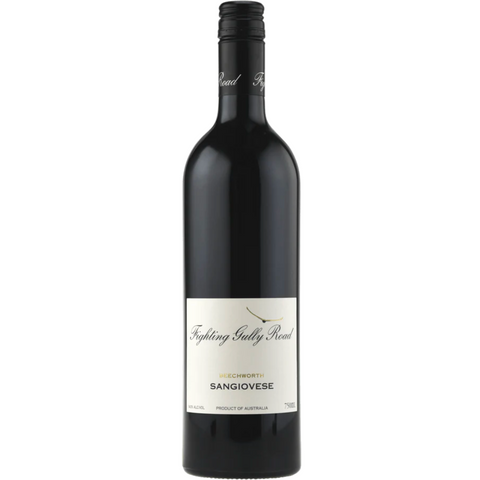 2019 Fighting Gully Road Sangiovese, Beechworth, Victoria, Australia
A sangiovese that combines the best of structure and juicy accessibility. Aromas of sour cherry, plum, and muntries (a tart native berry) with nuances of dried anise myrtle and native oregano. Medium bodied, savory and textural, with line of finegrained tannins and acidity running throughout.
ABOUT THIS WINE
Vintage notes: The 2019 vintage was preceded by a drier winter and spring, with downpours in December providing good soil moisture for ripening. Fruit was flavorful and good quality with overall average yield and bunch sizes.
Vineyard notes: The Fighting Gully Road site is 8.3ha planted at elevations between 530 and 580m above sea level, receiving 850mm rainfall per year. The vineyard is
characterized by prevailing winds from the north-west. During the growing season these breezes have lower levels of humidity and ensure that the vines have restrained vegetative growth and remain disease free. Soils are Ordovician mudstone with younger granite intrusions, promoting a balance of structure (mudstone) and aromatics (granite).
Winemaking: A portion of the grapes were destemmed to retain whole berries while the balance were crushed. Fermentation took place in a mixture of stainless steel
and oak vats with the wine remaining on skins for a total of 28 days. The wine spent 10 months in new and seasoned fine-grained, Italian-coopered French oak barriques, puncheons, and larger format oak.
ABOUT THIS PRODUCER
At an elevation of 530 – 580m above sea level, Fighting Gully Road is a cool, breeze-blown site. It's steady slopes rise to the top of the escarpment that overlooks the fertile Murmungee basin, south of Beechworth.
In 1995, when we purchased the farm, these slopes were covered in scrub, stumps and many thousands of rabbits. There was hard work ahead, but also plenty of potential.
The first vines were planted at the Fighting Gully Road vineyard site in 1997 – Cabernet Sauvignon and a small plot of Merlot on the north and west-facing slopes, followed by Pinot No​ir on the upper and east-facing slopes in the following year. Over subsequent years, small areas have been reworked to Tempranillo, Shiraz and Sangiovese.