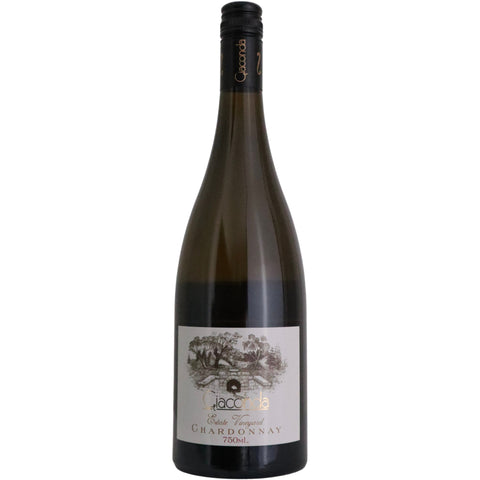 2019 Giaconda Chardonnay Estate Vineyard, Beechworth, Victoria, Australia
Straw gold; exhibits intense characters of white peach, hazelnut, matchstick, lime blossom and subtle notes of tangelo rind. A powerful impact on the palate with endless depth as you peel back the layers; funky reduction then a creamy textured element followed by mineral notes of wet river pebbles.
ABOUT THIS WINE
Single vineyard Chardonnay from the Beechworth area of Victoria, Australia; Matured in French Oak (30% new) for 2 years.
Giaconda is a well known boutique producer in Australian wine. Established in 1982 it has become best known for its Chardonnay, but also produces Shiraz and Pinot Noir in small quantities- approximately 2500 each year.
ABOUT THIS PRODUCER
Giaconda vineyard was established by Rick Kinzbrunner, a mechanical engineer who became interested in wine in the early 1970's. Rick then spent the next ten years working in the industry, travelling and following his passion for wine. After a brief stint in New Zealand, he studied at Davis University in California and worked at some of the most respected wineries in the Napa and Sonoma Valleys (namely Stag's Leap, Simi and Matanzas Creek). In Europe he worked for the Moueix group in Bordeaux, co-owner of the fabled Chateau Petrus.
After returning to Australia in 1980 to take up a position as assistant winemaker at Brown Brothers in Milawa, Rick purchased land in the nearby Beechworth wine region - at the foothills of the beautiful North-East Victorian Alps. Planting commenced in 1982 and the property is now devoted solely to Chardonnay, Pinot Noir and Shiraz. A separate planting of Nebbiolo has also been established close to the Beechworth township at Red Hill. Total area under vines at the Giaconda Estate Vineyard is now 4 hectares. Annual wine production is approximately 2,500 dozen bottles.
Rick's son Nathan Kinzbrunner works full time at Giaconda and has done so since the 2007 vintage. His responsibilities include Assistant Winemaker and General Business Manager. Nathan also owns and manages a single hectare planting of Nebbiolo located at 'Red Hill' in Beechworth which produces fruit made under the Giaconda label.