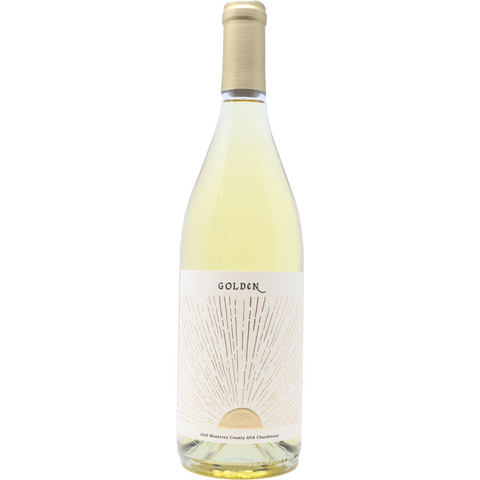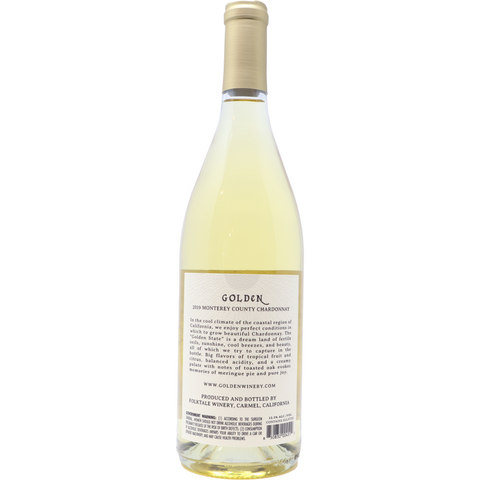 2019 Golden Chardonnay, Monterey County, California, USA
Sophisticated balance of fruit, mineral, oak and acid. Notes of bright pineapple, peach, and star fruit with a minerality that lingers on the finish. Subtle oak flavors with a soft vanilla bean nuttiness, like the perfect crust of a meringue pie.

California is called the Golden State for many reasons. The hills of California turn golden yellow each summer to match the golden sand beaches and deserts. Ever since the California Gold Rush, dreamers, pioneers, and free spirits have been drawn here. From golden tans to the Golden Globes, California is a unique and magical place. As a winemaker, California offers a special world in which to grow grapes. The warm sun, cool ocean air, fertile soils, and respect for land make for incredible growing conditions every vintage. When things are perfect and you're set up for success, we like to say "You're golden." With that spirit, in celebration of life and everything we love about the Golden State, we are excited to introduce our newest wine, Golden.
Based in Carmel Valley in the middle of the California coast, we believe that Monterey County is one of the great Chardonnay and Pinot Noir growing regions of the world. The perfect cool climate with warm days and strong maritime influence, Monterey Chardonnay is unique in it's tropical fruit, minerality, and bright acid.
​
Grapes for Golden Chardonnay were hand-picked into half ton bins and sorted by hand at Folktale Winery.The grapes were softly pressed in our bladder press. The wine is aged for six months in one and two-year-old Folktale Winery French Oak barrels, which rounds and softens the texture of the wine. Clean, balanced, and perfect with food or chilled on it's own, Golden exemplifies why Chardonnay is Monterey gold.