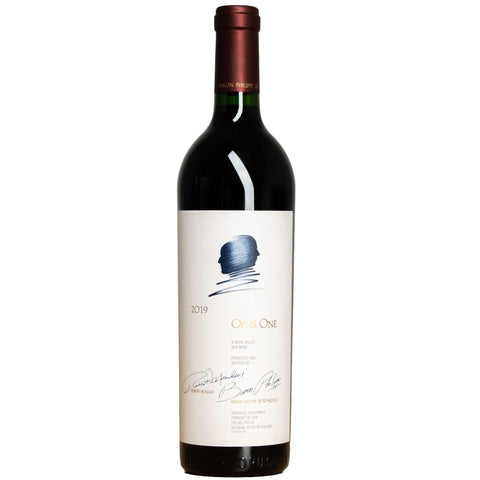 2019 Opus One, Napa Valley, USA
The Opus One 2019 has intense aromas of black plum, blueberry, black currant, and dried rose petals, accentuated by mineral undertones. The creamy, satiny texture is framed by fine-grained tannins. The freshness and soft glow of acidity create a subtle tension with dark fruit flavors, savory herbs, espresso, and cocoa. A delicate dark chocolate bitterness lingers on the finish.
ABOUT THIS WINE
Cabernet Sauvignon 78%, Merlot 8%, Petit Verdot 6%, Cabernet Franc 6% and Malbec 2%. 19 months in new French oak.
Abundant spring rains, nearly double the annual average, saturated the soil and provided ample water for the growing season. The first signs of bud break were observed in the vineyard on March 27th; a full 15 days later than usual. This delay led to later bloom and veraison. However, warmer temperatures toward the end of summer accelerated the fruit's development and maturity. Picking began on September 10th, a couple of days earlier than average. The harvest lasted four weeks, and activity in the cellar proceeded at a calm and steady pace.

ABOUT THIS PRODUCER
Opus One is a partnership founded by Baron Philippe de Rothschild of Chateau Mouton Rothschild in Pauillac, France, and renowned Napa Valley vintner, Robert Mondavi. Producing luxury wines from its Napa Valley vineyards, the partnership made its first vintage in 1979 and has made wine at Opus One since 1991. The facial profile of the two founders is visible on their iconic label.
The essence of time is expressed in Opus One wine by the character of each vintage. Place, often defined as terroir, represents the geography, the climate and the essential human element which is captured in the wine's balance between power and finesse, structure and texture.
Guided by the vision of our founders, winemaker Michael Silacci combines intuition and technical acumen with the dual perspective of viticulturist and winemaker. From tasting berries to careful sorting and extended aging in new French oak barrels, each stage of the winemaking process is afforded the same meticulous consideration and attention. After 18 months, the Opus One wine is bottled and held an additional 15 months until release on October 1st each year.