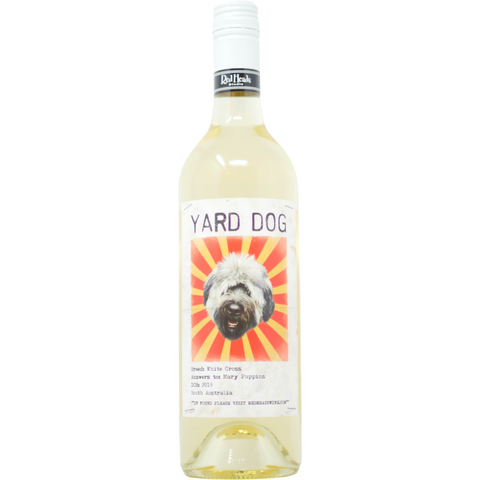 2019 Redhead Studios "Yard Dog", South Australia
Pale green straw, with stonefruit and citrus notes on the nose. The leads to a generous palate of white peaches and apricots yet a driving acid keeps the mouthfeel fresh and vibrant. It finishes tangy and dry, with good cut and subtle spiciness.
Yard Dog. The old faithful friend and beloved household pet the whole family adores, occasionally superceded as the last one bites the dust (or the last drop is drunk). It is the quintessential companion, whatever the weather, the mood or the occasion.
The same could be said for Chardonnay in Australia – cuddly, friendly, ready to roll over – and almost every winery owns some. Throw in a neglected variety like Verdelho and spice it up with some Semillon and hooah, one lovely glass of booze. It is said that a dog will reflect the character of its owner and a wine will reflect the character of its maker. Red Heads winemaker is friendly, fun to be with, but we're sure he doesn't bite. But, as for his Yard Dog – beware!