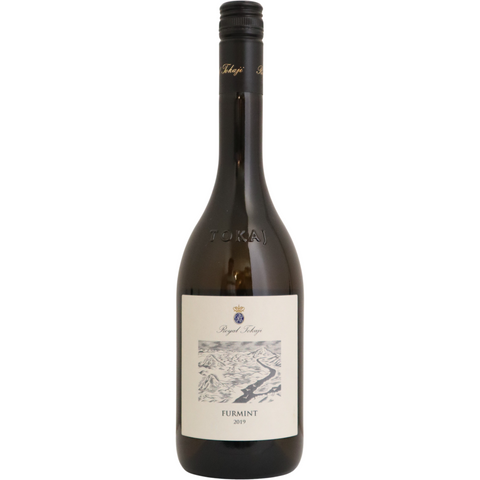 2019 Royal Tokaji Dry Furmint, Tokaji, Hungary
A fresh, crisp wine showing all the fine qualities of the unique Furmint grape.
Aromas of grape flowers, apple, and pear combine with flavors of ripe apricot and peach to produce a sleek, intense dry wine with a long, refreshing finish.
ABOUT THIS WINE:
Royal Tokaji's Dry Furmint is the definitive regional expression of this grape variety. Fruit is sourced from estate and negociant vineyards. The region, with its 400-plus extinct volcanos, is depicted on the label. This volcanic soil and hilly topography are critical to the expression of Furmint in this wine.
2019 was an excellent vintage for dry wines as it was warm early and provided ripe and full-flavored Fermint grapes with balancing acidity.
This wine is delicious as an aperitif, ideal with oysters, seafood and white meats, but partners equally well with spicy dishes and fried foods. Versatile is the word!
ABOUT THIS PRODUCER:
Royal Tokaji Winery was founded in 1990 and has become one of the most admired wineries in Tokaj. Their goal is to revive and bring back to international acclaim the wines of one of history's most renowned wine regions.
The majority of Royal Tokaji's vineyards are in the Mád commune. These include the First Growths – Szt. Tamás, Nyulászó, Betsek, and the Second Growth Birsalmás. Royal Tokaji's Mézes Mály vineyard – a Great First Growth – lies within the Tarcal commune.
At the end of the 17th century, Tokaji aszú wines were so well regarded throughout the Courts of Europe that Prince Rákóczi insisted on a classification of the finest vineyards around the 28 villages in the region into: Great First Growths, First Growths, Second Growths and Third Growths.
For over 300 years this special terroir has benefited from Botrytis to produce world class wines.