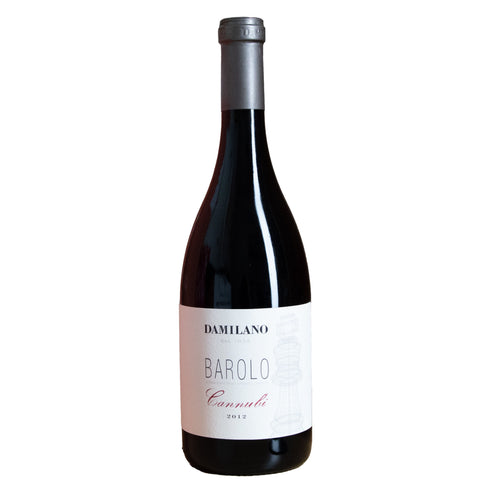 2012 Damilano Barolo "Cannubi", Barolo, Piedmont, Italy
Garnet ruby red in color with orange reflections. The bouquet is ample and embracing, with pronounced fruity notes of cherry and plum and notes of tobacco, liquorice and cocoa. On the palate, the wine is harmonious, pleasantly dry with soft tannins, broad and full-bodied. Persistent finish.
ABOUT THIS WINE
The Cannubi Cru is in found within one of the 6 core zones which comprise the fiftieth UNESCO site in Italy. A mixture of Tortonian and Helvetian calcareous marl gives the grapes intense aromas of cherry, plum, tobacco, rose and violet. Its low potassium and high calcium/magnesium content offer the wine a fine and polished touch. Calcareous with 45% sand, 35% limestone, 20% clay. The vineyard is located at about 270 m. a.s.l. and has an south-south-east sun exposure.
Cannubi is a sumptuos wine, perfect with the full-flavoured Piedmontese cuisine such as white truffle -based dishes and braised meat. Ideal with the refined dishes of the great international gastronomy.
ABOUT THIS PRODUCER
The Damilano name carries with it more than 100 years of winemaking history in the heart of Italy's most dynamic, competitive, and prestigious wine zone; Barolo. Damilano is one of the oldest wineries in Barolo, dating back to 1890, when Giuseppe Borgogno started cultivating grapes and producing wine from his own vineyards. Giacomo Damilano, the founder's son-in-law, took over the winery operation in 1935. Giacomo grew the business, and improved the general quality of both the vinification system and the vineyards, turning the winery into a "jewel" of the Langhe area. The results of his hard work were passed down with great pride to his grandchildren Paolo, Mario and Guido in 1997: they gave new vigour to the family company and they are still working to maintain and improve quality in the vineyards. The Damilano name stands, not only for longevity, but for top quality. Aside from their world-class vineyard holdings, the Damilano family operates a Michelin-starred restaurant in La Morra.