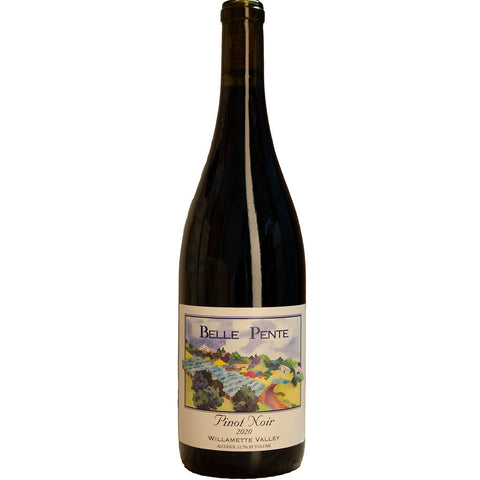 2020 Belle Pente Pinot Noir, Willamette Valley, Oregon, USA
Light, fresh style, with little if any new oak. Fresh red fruit subtly accented with spice and flowers. Silky and energetic on the palate
ABOUT THIS WINE
This Willamette Valley bottling includes fruit from Belle Pente estate vineyard combined with grapes from other selected Yamhill County vineyards. It is made in a light, fresh style, with little if any new oak. Reflective of the vintage, it is intended for early consumption.
ABOUT THIS PRODUCER
Belle Pente is one of the storied properties of Oregon's nascent winemaking days and we are particularly proud to represent the O'Donnells and their wines.
Jill O'Donnell hails from Minnesota; Brian, a first-generation Irish-American, from New York City, and they met working in California. In 1992 they purchased what would become Belle Pente, planted their vines in 1994, and built their 3-level, gravity-operated winery in 1996 in time for their first harvest. From the first they were interested in organics and now farm their 18 acres of vines with both organic and biodynamic methods. In addition, they are firm believers in dry farming.
Two-thirds of what they make is Pinot Noir and two-thirds is from their own vines. Production averages 4,500 cases. Their wines are all about elegance, with a breadth of textures and flavors that can astonish. They remain among the most respected of Oregon's producers.