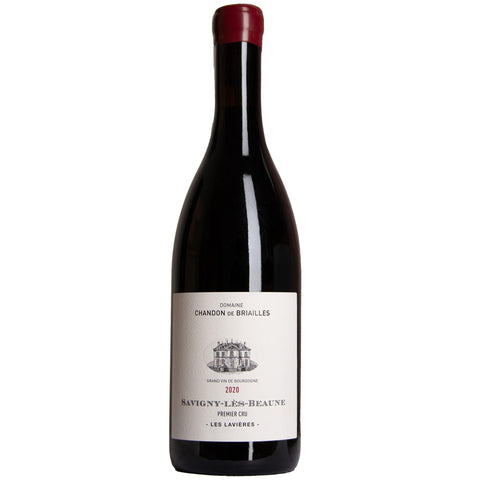 2020 Chandon de Briailles Savigny-Les-Beaune 1er Cru "Lavières" (Sans Soufre), Burgundy, France
Pure and perfumed bouquet with scents of raspberry and peony. The palate is medium-bodied with fine grain tannins, a fine bead of acidity, cohesive with fine backbone and a lightly peppery, clove-tinged finish. Wonderful.
ABOUT THIS WINE
Mid-slope and predominantly limestone (Lavières comes from the word "lave" which here has nothing volcanic about it but was the term used in the past to describe the flat limestone slabs used to cover the roofs). In fact, these famous stones are found here in the sub-soil. The vines are more than 50 years old. We are in the finest part of the appellation.
The wine is very elegant, with a fine and precise structure expressing strong minerality. This gives great aromatic complexity that is enhanced through ageing.
In its youth, floral aromas such as violet are found, with a touch of liquorice. Slightly smoky and gun-flinty, it possesses great persistence on the palate.
ABOUT THIS PRODUCER
This historic estate was established in 1834. Claude de Nicolay took over from her mother as winemaker in 1988 and crafts traditionally styled wines from one of the Côte d'Or's great terroirs, the hill of Corton and its surrounding villages. Corton is just north of Beaune and it's easy to spot, as it's a big hill with a forest on top. It's a limestone outcropping that is set apart from the main "côte" of the Côte de Beaune or Côte de Nuits. It is a bit of an anomaly in the Côte d'Or as the Grand Crus are named after the hill, rather than attached to a specific village. Three villages have vineyards that are a part of Corton: Aloxe, Ladoix, and Pernand-Vergelesses. Corton is the only place with red Grand Cru in the Côte de Beaune.
Already in the early 1980's Nicolay's mother, Nadine, stopped using any herbicides or pesticides in the vineyards and the vineyards have been organic since 1998. Francois de Nicolay, after running a wine shop in Paris for several years, joined his sister at the domaine in 2001. Through his experience of tasting wines from all over France, he became interested in biodynamic farming and by 2005, the vineyard management was fully biodynamic. The brother and sister team are incredibly curious and always making trials to acheive the best soil health and expression from their terroir. They were the first in Burgundy to treat oidium with milk instead of a copper sulfur mix and it's now a permissible treatment for certified organic agriculture. They own 13.7 hectares and "every vine is touched." Since 2014, they have been working with training the vines higher and longer, which gives the vines protection from the sun / shade for the grapes, and also allows for more photosynthesis, giving the plant more energy. They own three horses now and eventually would like to use horses entirely instead of tractors. They are also working with herbal infusions to boost the health of the vines and soil.
In the cellar, no enological products are used (except for sulfur in very small quantities), no tartaric acid, no exogenous yeasts, no tannin powder, no enzymes, etc. The winery itself has also been certified biodynamic since 2012. When most people mention biodynamic, they are referring to the farming. It's a separate certification for the cellar. The Chandon de Briailles wines are quite unique in the fact that there is a negligible amount of new oak for aging and most wines are made with a whole-cluster fermentation. For many years, Chandon de Briailles used 100% whole clusters every year on every wine, but their style has gradually changed and since 2011 they adapt the amount of whole clusters according to the wine and vintage. The Savigny-les-Beaune village is now typically de-stemmed and the premier cru and grand cru will have up to 100% whole cluster in a sunny year with good phenolic maturity. Fermentations start naturally a few days after harvest in open top cement tanks for all of the wines, except the grand cru, which are fermented in wooden open top fermenters. In 2015, the winery used a new stainless steel vertical press, which is incredibly gentle. It's considered the "Rolls Royce" of presses because it simply gives the most perfect and gentle press. Aging is carried out in mostly used barrels (up to eight years-old). The maximum amount of new oak now, even on the grand cru wines is up to 20%, as of the 2017 vintage. All of the wines are bottled without fining or filtration. For more than ten years, they have been working with low sulfur and bottled no sulfur wines to see how they would age and travel. For the first time, for the 2017 vintage, they released a limited amount of wines bottled without any added sulfur.
The Chandon de Briailles wines are truly gems within the Côte d'Or. They are not quite like any other Burgundy. When destemming, extraction, and new oak were the fashion, they were bottling all of their wines with 100% whole clusters and no new oak. Even today, with a max of 20% new oak, it's very low for grand cru Burgundy. Nothing quite stands still here and the only constant is the unending quest to learn more and experiment to achieve the best expression possible of Savigny-les-Beaune, Pernand-Vergelesses, and Corton, irrespective of fashion.