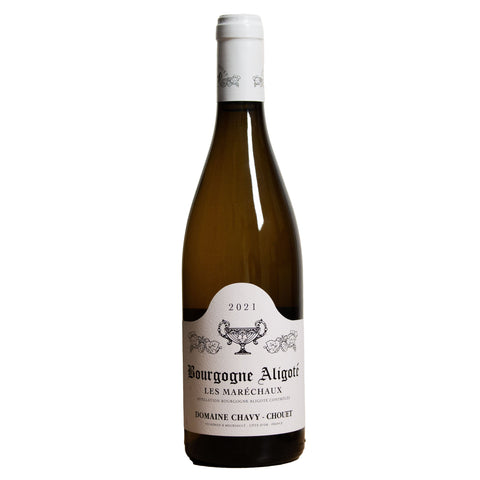 2021 Domaine Chavy-Chouet Bourgogne Aligoté "Les Maréchaux", Burgundy, France
Light, floral and vibrant style made from 100% Aligoté. A great wine for Fish & Chips or a warming bowl of mussels. Best enjoyed in its youth but can age for a few years.
ABOUT THIS WINE
Chardonnay may be Burgundy's superstar but take note of the revival of Aligoté. It's often under-appreciated and can therefore provide incredible value from even the top producers. 'Les Maréchaux', located in Meursault is a new parcel of Aligoté recently acquired by the Domaine after the 'Petits Poiriers' vines were replaced.
ABOUT THIS PRODUCER
Owner Romaric Chavy, who took over the estate in 2014, is the eighth generation to make wine in his family. Romaric learned from his father, Hubert Chavy, who founded the winery in 1982. Chavy-Chouet is one of the oldest families in Puligny-Montrachet. The Ropiteau family (on his mother's side) is the oldest one in Meursault.
Hubert, who was known not only for his winemaking but also for his charisma, was able to train Romaric for a few years before his passing in early 2014. Romaric has become a smart vigneron with a natural talent for winemaking. After six years at a specialist winemaking school and with plenty of experience in winegrowing and vinification around the world under his belt, Romaric has given the estate a makeover, and he follows an approach that combines rigor, tradition, and innovation.
Wine Production Area: France - Burgundy - Chassagne-Montrachet, Chassagne-Montrachet Premier Cru, Cremant de Bourgogne, Meursault, Meursault Premier Cru, Pommard, Puligny Montrachet, Puligny Montrachet Premier Cru, Saint-Aubin, Saint-Aubin Premier Cru