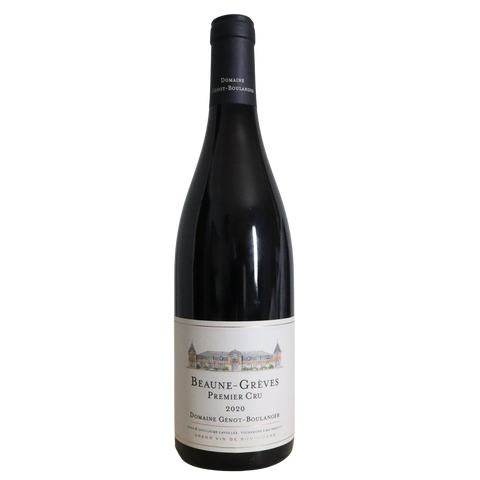 2020 Domaine Genot-Boulanger Beaune 1er Cru "Les Grèves", Burgundy, France
Deep in color, coming from the upper part of Grèves at the southern end. There is a serious weight of fruit behind this, starting gently on the palate and then building on through. The fruit is certainly ripe in style, but not too high in alcohol.
There are 6 units left in stock.
ABOUT THIS WINE
 Les Greves is perfectly located in the heart of the midslope of Beaune. The lieu dit's name is a reference to the gravely soil and possibly also derived from the word "graves" (serious) for the intensity of the rocks found in the soil. Genot-Boulanger's parcel was planted in parts during the 1960s and 1980. It is 1.04 hectare in size and is located mid-slope where the grade is the steepest.
 ABOUT THIS PRODUCER
Guillaume and Aude Lavollée represent the fourth generation of vignerons at Génot-Boulanger. Their wines are produced exclusively from estate-owned vineyards, located along all three Burgundy côtes, from Chambolle Musigny, down to the domaine in Meursault, and on to Mercurey. With 22 hectares, Génot-Boulanger is one of only a few family-owned Burgundian domains to produce such a diverse range. (They produce wine from over 30 appellations!)

Since 2008, Guillaume and Aude have worked painstakingly to improve the quality of their wines, converting to organic farming practices and experimenting with biodynamics. The domaine's philosophy is "maximum work in the vineyards for minimum intervention in the cuverie." This has translated to wines that are first and foremost true to their terroir.
The history of the estate begins with the realization of a dream, back in 1974, when Charles-Henri Génot and his wife, Marie née Boulanger moved to Meursault. They acquired their first vineyards in Mercurey and created the Domaine. Charles-Henri never tired in his search for additional terroir, obtaining parcels in Meursault, Chassagne-Montrachet, Volley, Pommard, and Beaune. Their son, Francois, inherited a total of 22 hectares of vineyards across 30 appellations in 1998 and continued the family endeavor for ten years until his daughter, Aude, and son-in-law, Guillaume Lavollée joined him.