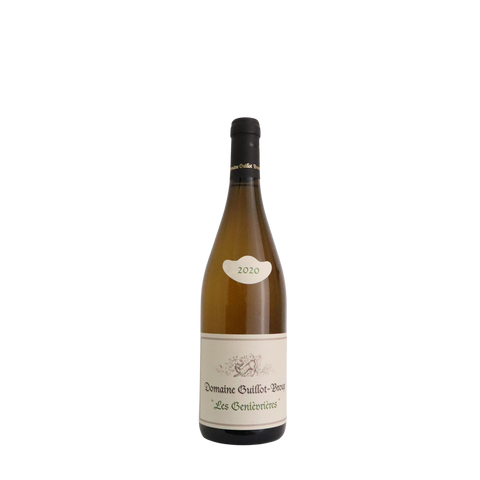 2020 Domaine Guillot-Broux Mâcon-Cruzille Blanc "Les Genièvrières", Mâconnais, Burgundy, France
The 2020 Mâcon-Cruzille Les Genièvrières has turned out very nicely, wafting from the glass with aromas of crisp green apples, pear, confit citrus, freshly baked bread and beeswax. Medium to full-bodied, satiny and elegant, its enveloping core of fruit girdled by racy acids, it concludes with a long, saline finish. This cuvée is especially charming this year.
ABOUT THIS WINE
Abandoned after the phylloxera crisis, this vineyard started being cleared and replanted in 1983 by our father, Jean-Gérard. Aiming for quality, he decided to use low-yield rootstock, high planting density, Guyot Simple pruning, and, of course, organic methods. This brings about a natural control of yield and optimum maturity. The Bathonian clayey limestone soil gives the wine its minerality.
Once known as Mâcon-Grevilly, the Mâcon-Cruzille appellation has clay-limestone soil on steep slopes. The vines were planted in 1983 and the wine is aged for 11 months in oak barrels. The cellar potential of this wine spans 10 to 15 years.
ABOUT THIS PRODUCER
On May 27 2008, Jean-Gérard Guillot, the founder of the Domaine Guillot-Broux, passed away at the age of 63. His sons, Emmanuel and Patrice, tell his story.
After some years working on his family's vineyard, our father left to deepen his wine-making knowledge. He first worked for several years at the Domaine de la Chanal in Brouilly in the Beaujolais, then at the Domaine Bernard Michelot in Meursault.
In 1978, he returned to Cruzille, where he established the Domaine Guillot-Broux with our mother, Jacqueline (Broux is her maiden name).
Our father was a winemaker, with a profound understanding of all that this encompasses: the soil, the vines, and wine.
His work in the vines was balanced by another passion: reading. At night he would pursue his interest in history, on which he read avidly. Listening to him talk about the building of cathedrals, or about Celtic culture, was enthralling.
He also loved hunting; not blind slaughter, but hunting with a deep respect for nature, with the knowledge that man is part of that nature, not separated from it.
Above all, he loved his family: his wife, his children, his grandchildren, to whom he passed on his passion, his knowledge and his land.