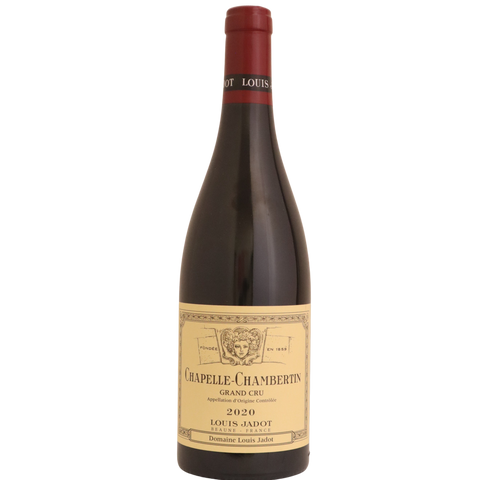 2020 Domaine Jadot Chapelle-Chambertin Grand Cru, Burgundy, France
Exquisite bouquet with beautifully-defined brambly red fruit, undergrowth and minerals, and oyster shell scent becoming more intense with aeration. The palate is medium-bodied with chalky tannins, lightly spiced with a harmonious and cohesive finish that has real body and depth. Outstanding.
There are 2 units left in stock.
ABOUT THE WINE

The Grands Crus of Gevrey Chambertin is located on a gentle east-facing slope in the southern part of the town. The soil is limestone in depth and clayey on the surface, which gives the wines both their power and their roundness.
ABOUT THIS PRODUCER
Louis Jadot is one of Burgundy's most important negociants, both qualitatively and quantitatively, with a portfolio that covers everything from inexpensive Bourgogne and Beaujolais wines to several grand cru wines, from the Côte de Beaune to Chablis. Unsurprisingly, Pinot Noir and Chardonnay feature heavily in the portfolio.

The house was founded in Beaune in 1859 by Louis Jadot, although the first vineyard – Clos de Ursules – was purchased in the 1820s. The headquarters remains in Beaune, although vineyard holdings have increased exponentially. Louis Jadot owns land in some of Burgundy's most famous vineyards, including Le Musigny, Échezeaux, Chapelle-Chambertin and in the famously fragmented Clos de Vougeot vineyard. Louis Jadot wines are also made in Chambertin, Montrachet, Corton and Romanée-Saint-Vivant.

As well as the sizeable portfolio of wines made under the Louis Jadot label itself, the house also makes wines for Domaine du Duc de Magenta, and for Domaine Gagey. Andre Gagey took over as general manager for Louis Jadot in 1968 and, along with winemaker Jacques Lardiere, is often held responsible for Louis Jadot's high reputation.