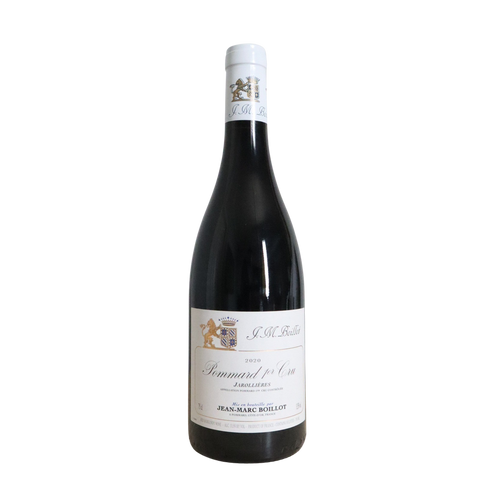 2020 Domaine Jean-Marc Boillot Pommard 1er Cru "Les Jarollières", Burgundy, France
A richer deeper purple, but looking good. There is a huge wealth of deep raspberry fruit on the palate, enough acidity, tannins only in the background, really impressive. Power in a good way, this has been made with a light enough hand. Elegant Pommard!
There are 11 units left in stock.
ABOUT THE WINE
A well-situated premier cru, bordering Volnay and Les Rugiens-Bas, one of Pommard's finest sites. The vines were planted between 1929 and 1945. After a strict sorting of the grapes, the clusters are 100% de-stemmed and undergo a vatting period from 18-21 days. Cold pre-fermentation maceration takes place in tank for 6-8 days without manipulation. A few pumpovers are made during fermentation. 13 months of aging takes place in oak barrels, 30% of which are new. 
ABOUT THE PRODUCER
Domaine Jean-Marc Boillot in Pommard is one of the domaines in Burgundy that produces wines of the highest quality made from both Pinot Noir and Chardonnay. The Domaine's vineyard holdings total of 9.7 hectares is spread through 22 crus located between Beaune and Chassagne-Montrachet at the southern tip of the Côte de Beaune. The majority are of premier cru quality.
Jean Marc Boillot worked with his grandfather Henri Boillot between the late sixties and 1984 when he became the winemaker for Olivier Leflaive for a period of five years before establishing his own domaine following the inheritance of vineyards from his grandfather and latermaternal grandmother, a daughter of Etienne Sauzet. Many of Jean-Marc's extended family are involved in winemaking, including his daughter Lydia and son Benjamin.
These superb wines themselves are renowned for their lifted aromas and purity. The reds are all vinified in the same manner, left on lees for their entire ageing and given 50% oak. The whites are opulent and round but very focused and only gently oaked. Jean-Marc doesn't like his wines to be too dry but prefers them rich and generous.