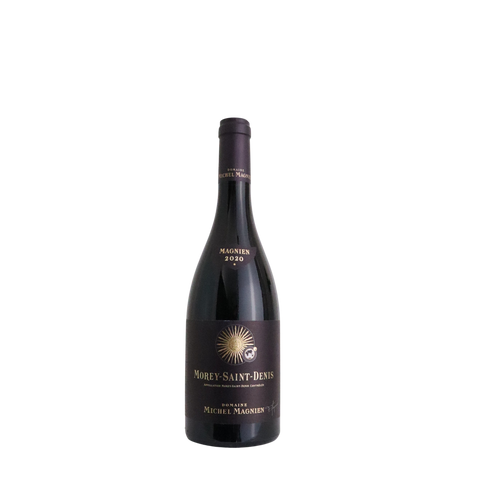 2020 Domaine Michel Magnien Morey-Saint-Denis, Burgundy, France
The wines of Morey-Saint-Denis are often said to combine the structure of Gevrey-Chambertin with the perfume of Chambolle-Musigny. This Morey-Saint-Denis shows fresh red berries on the nose with notes of violets, spice, and earth. Old vines and heavier soils give this wine weight and richness on the palate.
There are 2 units left in stock.
ABOUT THIS WINE
First mentioned as far back as 1120, fourteenth century Morey was a place of asylum for Cistercian monks who appeared to have possessed numerous vineyards and even a winery by 1306. The appellation extends from Chambolle-Musigny to Gevrey-Chambertin and covers around 148 hectares, 80% of which are planted with grapes for red wines.
This 100% Pinot Noir wine is a blend of grapes from vineyard plots. This Morey-Saint-Denis contain grapes from "Clos Solon", "Chenevery", "Crais" and "Cognées", which bring it great quality.
ABOUT THIS PRODUCER
Domaine Michel Magnien has evolved into a Burgundy producer of a singular style and philosophy from cellars located in the village of Morey-Saint-Denis. In 1993, Frédéric Magnien persuaded his father Michel to begin domaine bottling. The domaine is now certified biodynamic by Demeter and the wines are produced without the use of new oak
The domaine's 45 acres are spread across the villages of Morey-Saint-Denis, Gevrey-Chambertin, Chambolle-Musigny, and Vosne Romanée, with holdings in several premier cru and grand cru vineyards. These include the grand crus Clos de la Roche, Clos Saint-Denis, and Charmes-Chambertin. Frédéric Magnien maintains an average vine age of 50 years
Morey-Saint-Denis is a cuvée of four vineyards that lie near the D974, Clos Solon, Chenevery, Les Crais, and Les Cognées. Most of these sites have heavier soils without stones which Frédéric believes results in less structure but a more generously textured palate. The wine was aged entirely in used, Burgundian pièce.