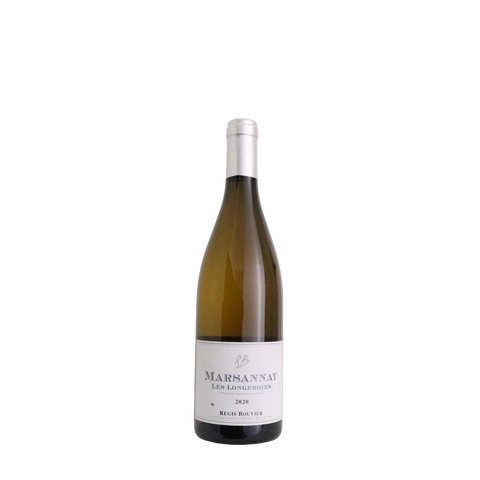 2020 Domaine Régis Bouvier Marsannay Blanc "Les Longeroies", Burgundy, France
Straw color with a golden hue. Nose brings apricots, graham crackers, kiwi-lime, orange zest, and spring flowers. The palate is light, square, sharp, and concentrated, bringing green apples, tangerines, lemon curd, pineapple, honey and lingering stone and minerals into the finish.
ABOUT THIS WINE
The winemaking history of Marsannay runs centuries deep, as far back to the 14th century when the Ducs of Bourgogne preferred Marsannay above other villages. Régis Bouvier's two parcels are adjoining—the Clos du Roy is on the slope and Les Longeroies is between the slope and the valley floor.
This Chardonnay is from vines that average 10 years old on limestone, marl, clay, stone and gravel soil. The wine is aged for 12 months in barrels of which 30% are new.
ABOUT THIS PRODUCER
Régis Bouvier in Marsannay achieves a rare hat trick in Burgundy, the mastering of all three colors–red, white and rosé, through reasonable yields and high quality terroirs. Bouvier makes the best Burgundian rosé that we have ever tasted, his whites are delicious, with their own particular character completely unlike other Chardonnays from Burgundy, and his reds are his crowning achievement, managing to be wild and exciting while refined and elegant at the same time.
Bouvier's vineyards in Marsannay are premier-cru quality (some may even get classified) and his lieu-dit Bourgogne Rouge En Montre Cul vineyard is of a quality well above most (cultivated on a steep slope, not flatland Bourgogne). And don't miss his Morey-St-Denis En la Rue de Vergy, a superb vineyard right above the Grand Cru Clos de Tart. This domaine represents terrific value for a number of reasons–a lesser-known appellation combined with quality vineyard holdings and a conscientious and talented wine grower.