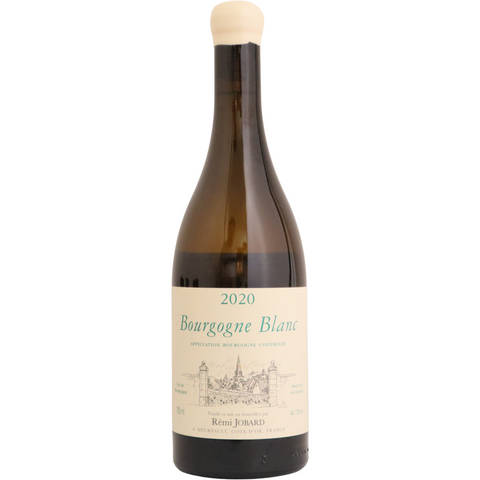 2021 Domaine Rémi Jobard Bourgogne Blanc, Burgundy, France
Fresh red apples, sour lemon, and a slight salinity harmonize in this delightful burgundy.
There are 47 units left in stock.
ABOUT THIS WINE
This Bourgogne is sourced from 6 parcels around Meursault, with an average vine age of 40+ years. Aged in foudre and barriques (50%/50%) with 15% new oak to give beautiful aromas of toasted brioche and walnuts.
ABOUT THIS PRODUCER:
Rémi Jobard is the dynamic son of Charles Jobard and nephew to Francois Jobard. Growing up and learning form these legendary brothers inspired Rémi to follow in his father's footsteps and eventually take the helm at this remarkable domaine. As is normally the case in Burgundy, with a famous last name comes an enviable assortment of vineyards. When Rémi took full control in 1996, he found himself presiding over Meursault and Puligny based Bourgogne Blancs, 4 high altitude Meursault lieu dits, and 3 of the best situated parcels of 1er crus.
Since 1994, the domaine has not used any herbicides or pesticides. After Rémi took over, he decided to take the quality of farming to the next level, converting to organics and eventually getting certification in 2011. All of Rémi's wines show a breathtaking clarity of terroir, which come from the impeccable farming and a simple hands-off approach in the cellar; all of the wines are aged in a mixture of barrique and large older foudre. When asked about his approach Rémi says, "We are very privileged to have great terroir in Meursault. Everything I do in the vineyard and in my cellar is to make sure that terroir is transparent and completely unobscured." Tasting through the lineup is a true masterclass of Meursault – a sensual tour of rock and vine.