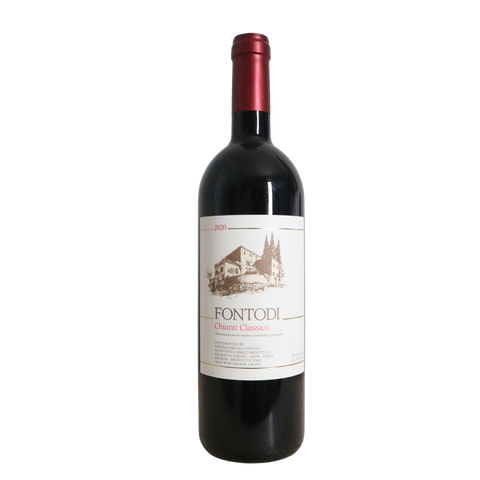 2020 Fontodi Chianti Classico, Tuscany, Italy
Deep ruby red in colour, this wine has aromas of ripe plum and sour cherry, with notes of tobacco and leather from oak ageing. On the palate, it has great depth of flavour, with juicy fruit and supple tannins giving way to a silky-smooth texture. This Chianti Classico has superb structure and finishes with a fine mineral note.
There are 23 units left in stock.
ABOUT THE WINE
Fontodi's 99 hectares of south-facing vineyards sit at 450 metres above sea level in the Conca d'Oro, an amphitheatre-shaped valley to the south of Panzano. Well-draining Scaglia Toscana soils are made up of a mixture of Galestro (clay schist) and Alberese (limestone) and encourage the vines to grow deep roots. The Sangiovese used for the Fontodi Chianti Classico comes predominantly from 10-year-old, guyot-trained vines, with a proportion of fruit from the same 25-year-old vines that produce Flaccianello 
ABOUT THE PRODUCER
Tenuta Fontodi is Chianti's class act: Her renowned crus are the Super Tuscan Flaccianello and the Sangiovese-Cabernet Sauvignon favorite Vigna del Sorbo, while her Chianti Classico is unflinchingly reliable. Winemaking in the timeless land of Chianti Classico dates back to the 8th century, and the term "Chianti" was applied to wine as far back as 1398: Tenuta Fontodi is one of many existing estates that can trace their lineage back to these historic times. Fontodi is an all-time favorite of any Tuscan wine enthusiast. In the 17 published editions of Gambero Rosso, Italy's acclaimed wine rating guide, this Tuscan estate has won the coveted Tre Bicchieri (Three Glasses) award 13 times. And like the other greats of Chianti Classico (Felsina, Querciabella, Castell'in Villa...), they did it by revealing the true essence of the Sangiovese grape and the local terroir. They maintain tradition even when updating equipment; in fact, the new cantina works entirely on the gravity principle.