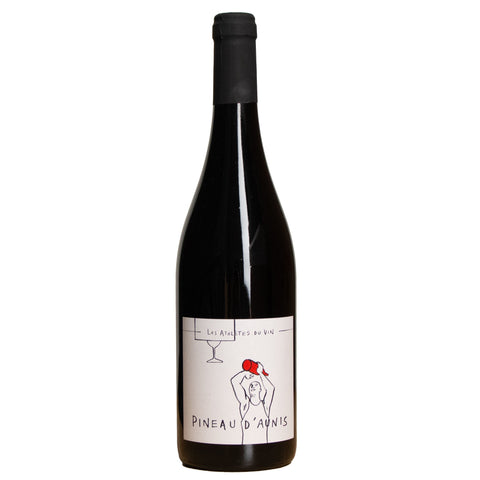 2020 Les Athletes du Vin Pineau d'Aunis, Loire Valley, France
This bright, fruit-driven wine is perfect for sipping with charcuterie boards, barbecue favorites, or spicy Asian dishes.
ABOUT THIS WINE
Pineau d'Aunis is a long-overlooked variety of the Loire Valley that has been regaining a following in recent years, mostly in part to affordable and very drinkable bottlings like the one by these guys. Terroir for these grapes are clay and limestone soil grown on 50-120-year-old vines. Farmed sustainably and organically, and aged for 6 months in a concrete tank with fine lees. Minimal intervention and only native yeast is used..

ABOUT THIS PRODUCER
Les Athlètes du Vin is a négociant project focused on typical, value-driven wines from the Loire Valley. The idea was conceived by a group of French winemakers called Vini Be Good, who work together to distribute their wines across France. The wines are vinified by various members of the Vini Be Good network using their own grapes or grapes purchased from friends and neighbors in the Loire. We are proud to present these wines made by their friends and family, as several of the cuvées are vinified by Gérard Vallée, brother of Mathieu Vallée from Château Yvonne.

The labels for Les Athlètes du Vin are drawings by French artist, illustrator, and cartoonist Michel Tolmer, who has been the unofficial lead artist of the French natural wine movement since the 1990s.
Although the project is made up of a collective of producers across the Loire Valley they all work in very similar ways. Each producer has their own specific philosophy when it comes to farming and production but overall they hit on several key points. All of the farming is done with sustainable methods, most of which fall under organic practices and several of the producers also apply biodynamics to their farming regime. Nearly all of the fruit is hand harvested, in some cases, the fruit may have been machine harvested with delicate machinery built to harvest in the most gentle and efficient way.
Production-wise, the wines are produced with minimal intervention techniques. This means there are never any additives outside of small doses of SO2 and all of the fermentations take place on native/ambient yeasts. The fermentation and aging vessels vary from producer to producer and wine to wine, but most common vessels include; stainless steel, concrete, and larger, older wooden vats. Many of the wines are unfined and unfiltered but when they are fined and filtered it is done in a gentle and minimal maner.